Thirteenth Court of Appeals
Chief Justice Rogelio Valdez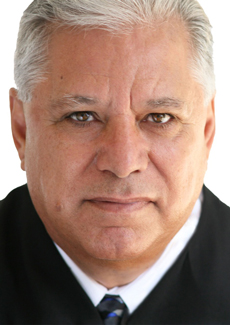 Place 1
Chief Justice Rogelio Valdez was elected Chief Justice of the Thirteenth Court of Appeals on November 7, 2000, and re-elected to a second term in 2006. He is the first person of Hispanic descent to serve as the Thirteenth Court's Chief Justice.
Chief Justice Valdez's judicial service began in 1983 when he was elected to County Court at Law Number One in Cameron County. In 1987, he was elected to the 357th District Court of Cameron and Willacy Counties. In 1991, while still serving as District Court Judge, Chief Justice Valdez began to serve as Local Administrative Judge of the District Courts for Cameron and Willacy Counties. He held both positions until joining this Court.
Chief Justice Valdez earned his B.A. at Texas A&I University in 1976, and received his Juris Doctorate from Texas Southern University in 1979. Prior to his judicial career, Chief Justice Valdez practiced law as a solo practitioner. He also served as an assistant district attorney with the District Attorney's Office of Cameron County.
Chief Justice Valdez is a former Chairman of the State Council of Chief Judges. He is a former Board Member of the Texas Center for the Judiciary and serves on the Advisory Committee for the Lower Rio Grande Valley Development Council. He is a member of the Cameron County Bar Association, the State Bar of Texas, the Mexican-American Bar Association, the American Bar Association, and the Texas Judges Association. Chief Justice Valdez is also a former Board Member of the Reynaldo Garza School of Law, past Chairman of the Cameron County Bail Bond Board, and a former member of the Texas Lion's Club, Texas Jaycees, and Texas Knights of Columbus.
His many honors and awards include being elected as one of the youngest judges of county courts-at-law in the State of Texas, Hispanic of the Year (Image of Brownsville), Outstanding Citizen (Harlingen Jaycees), President of the Student Body at Texas A&I University, Exemplary Former Migrant Student (Texas Education Agency), and Pro Bono Honoree (Cameron County Pro Bono Project).
Chief Justice Valdez was born in Raymondville, Texas on December 20, 1951. He and his wife, Adelita Martinez Valdez, are the proud parents of five children—Elena, Vanessa, Annalisa, Rogelio, Jr., and Rafael. They have a beautiful granddaughter by the name of "Isabela," whom Chief Justice Valdez lovingly calls "Queen Isabela."
Chief Justice Valdez's term ends December 31, 2018.
Judicial Career
Thirteenth Court of Appeals, Chief Justice – 2001 to present
Local Administrative District Judge for Cameron County – 1990 to 2000
357th District Court of Cameron and Willacy Counties, Judge – 1987 to 2000
Cameron County Court at Law Number One, Judge – 1983 to 1986
Local Administrative County Court at Law Judge for Cameron County – 1983 to 1986
Education
Texas Southern University, Thurgood Marshall School of Law, J.D. - 1979
Texas A&I University, B.A. - 1976
Professional Associations & Memberships
State Council of Chief Judges, Former Chairman
Texas Center for Judiciary, Former Director
Bar Memberships (Past & Present)

American Bar Association
Cameron county Bar Association
Mexican-American Bar Association
Texas Bar Association
Texas Judges Association
Community Involvement
Advisory Committee Member, Lower Rio Grande Valley Development Center
Fourth Degree Knight, Texas Knights of Columbus
Member, Texas Lion's Club
Member, Texas Jaycees
Student Body President, Texas A&I University
Awards
Alumnus of the Year, Thurgood Marshall School of Law
Hispanic of the Year, Image Brownsville
Outstanding Citizen, Harlingen Jaycees
Pro Bono Honoree, Cameron County Pro Bono Project
Exemplary Former Migrant Student, Texas Education Agency