Thirteenth Court of Appeals
Justice Dori Contreras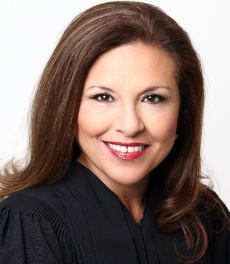 Place 6
Justice Dori Contreras, formerly known as Justice Dori Contreras Garza, was born in San Juan, Texas. She was raised in Pharr, Texas and graduated from PSJA High School in 1976.  After graduation, she moved to Austin to attend the University of Texas from which she received a Bachelor of Business Administration in Accounting in December of 1980.  In response to a job offer, Justice Contreras moved to Houston, Texas and worked as an accountant for several years before deciding to go to law school.  In 1987, as a mother of two daughters, she began law school in the night program at the University of Houston Law Center and continued working full-time.  She continued with this rigorous schedule for a year and one-half before deciding to quit her job and borrow the needed funds to attend school full time.  A year and one-half later, in May of 1990, she received her Doctor of Jurisprudence degree.  Justice Contreras was active in various organizations in law school and was recognized as one of six students to receive the Distinguished Service Award from the University of Houston Law Center. She was admitted to the State Bar of Texas in November of 1990.
Justice Contreras began her legal career in Houston working as an associate for Thomas N. Thurlow and Associates. In 1991, she moved to San Antonio and began employment with the Law Offices of Frank Herrera. After one year, she transferred to the McAllen branch office which she managed until 1997. In that year, she became a partner in a civil trial firm that litigated and tried state and federal court cases. Justice Contreras also formed a mediation practice in 1997 which she ran concurrently with her law practice. She was elected to the Thirteenth Court of Appeals in 2002 and was re-elected in 2008 and 2014. In 2010, Justice Contreras was one of three recommended by the Texas congressional delegation for nomination by the White House to a United States District Court seat in Corpus Christi, Texas.
Before joining the court, Justice Contreras served as President of the Hidalgo County Bar Association; was a board member of the Texas Trial Lawyers Association; and, served on the board of the Association of Trial Lawyers of America.
Justice Contreras has served as a member and on boards of numerous legal and community organizations. Throughout her legal career, Justice Contreras has lectured at continuing legal education programs around the state and country. She enjoys speaking to students at local schools and serving as a role model to the young women in her community.  When she is not busy with her family or her job, she enjoys running, exercising, reading, watching movies, traveling and socializing with friends.
In 2016, Justice Contreras received the Judge of the Year Award from the Hispanic Issues Section of the State Bar of Texas. In 2014, Justice Contreras was recognized as a Woman of Distinction by the Rio Grande Valley Hispanic Chamber of Commerce and received the Good Samaritan Award from Good Samaritan Community Services-RGV, a non-profit organization that provides an after-school and summer program for at-risk youth in the Pharr community.
Justice Contreras has three children. Lisette Marie Howard is a graduate of Texas A&M University and has a Master's degree from the University of North Texas. Vanessa Barry graduated summa cum laude from UT Pan American and is employed as the Director of Marketing and Communications for IDEA Public Schools in San Antonio, Texas. Michael James Garza Jr. is an undergraduate student at the University of Texas at San Antonio. Justice Contreras has three grandchildren, Aidan Scott Howard, Addison Marie Howard and Caroline Grace Barry.
.
Education
| | | |
| --- | --- | --- |
| BBA Accounting | University of Texas at Austin | December 1980 |
| Juris Doctorate | University of Houston Law Center | May 1990 |
Professional Employment & Activities
| | |
| --- | --- |
| Justice, 13th Court of Appeals | 2003 to present |
| Partner, Michael J. Garza & Dori Contreras Garza | 1997 - 2002 |
| Owner, Professional Dispute Resolution | 1997 - 2002 |
| Associate, Law Offices of Frank Herrera | 1992 - 1997 |
| Associate, Thomas N. Thurlow & Associates | 1990 - 1992 |
Member, State Bar of Texas
Fellow, Texas Bar Foundation
Member, State Bar College
Board Member, Texas Judicial Foundation
Member, Hidalgo County, Cameron County and Corpus Christi Bar Associations
Member, Hidalgo County Women's Bar Section
Member, National Association of Women Judges
Member, National Hispanic Bar Association
Member, Mexican American Bar Association of Texas
Past Board Member, Texas Center for the Judiciary
Past President, Hidalgo County Bar Association
Past Board Member, Texas Trial Lawyers Association
Past Board Member, Association of Trial Lawyers of America
Past Member, Administration of Rules of Evidence Committee
Law-Related Presentations & Honors
| | |
| --- | --- |
| Judge of the Year, Hispanic Issues Section of State Bar of Texas | 2016 |
| Presenter, Texas Supreme Court Update | 2016 |
| Presenter, Preservation of Error in Texas Civil Courts | 2015 |
| Presenter, Damages in Civil Litigation | 2014 |
| Presenter, CCBA Advanced Civil Trial Law Seminar | 2013 |
| Presenter, Hidalgo County Bar Association | 2013 |
| Presenter, CCBA Advanced Civil Trial Law Seminar | 2011 |
| Co-Course Director, Soaking Up Some CLE | 2010 |
| Panel Member, Strategies for Damages and Attorneys' Fees | 2010 |
| Presenter, State Bar of Texas Minority Attorney Program | 2009 |
| Co-Course Director, Soaking Up Some CLE | 2009 |
| Presenter, CCBA Advanced Civil Trial Law Seminar | 2008 |
| Presenter, CCBA Advanced Appellate Law Seminar | 2008 |
| Presenter, 30th Annual Advanced Civil Trial Course | 2007 |
| Presenter, CCBA Advanced Civil Trial Law Seminar | 2007 |
| Presenter, CCBA Advanced Civil Appellate Law Seminar | 2006 |
| Presenter, Conference on State and Federal Appeals | 2004 |
| Presenter, ATLA Expert Testimony with Eye on Appellate Record | 2003 |
| Presenter, TTLA Hot Tips for Hot Times | 2000 |
| Presenter, HCBA Applying the New Rules of Civil Discovery | 1998 |
| Presenter, ATLA Trucking Litigation | 1995 |
| Presenter, TTLA Handling Bias, Prejudice & Hostile Environments | 1993 |
| Author, Creating a History for the Future, Texas Bar Journal | 1992 |
| Distinguished Service Award, University of Houston Law Center | 1990 |
Community
Rio Grande Valley Hispanic Chamber of Commerce Woman of Distinction, 2014
Good Samaritan Award 2014, Good Samaritan Community Services-RGV
Board member, Chair 2011-2013, Good Samaritan Community Services-RGV
Board member, Comfort House Services
Mentor, UTPA Executive Mentor Program
Member, Hidalgo County Texas Democratic Women
Life Member, University of Texas Ex-Students' Association
Past Board member, St. John's Episcopal Day School, President, 2009-2010
Frequent volunteer, St. John's Episcopal Church and School
Frequent speaker at various schools in community
AVANCE Mother of the Year 2005