Fourteenth Court of Appeals
Chief Justice Kem Thompson Frost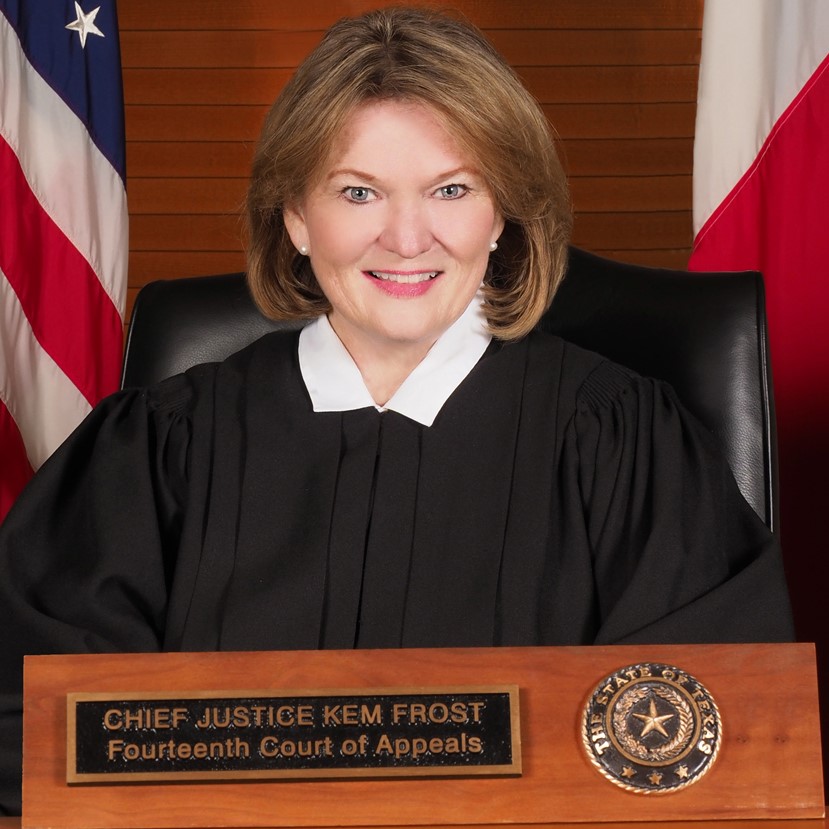 Place 1
Appointed to the Fourteenth Court of Appeals in early 1999 by then-Governor George W. Bush and elevated to Chief Justice in 2013 by then-Governor Rick Perry, Kem Frost is the longest serving justice on the Houston courts of appeals. Before taking the bench, she enjoyed a 15-year civil trial and appellate practice, with an emphasis on business litigation.
Professional Experience
COURT OF APPEALS FOR THE FOURTEENTH DISTRICT OF TEXAS, Houston, Texas
     Chief Justice, September 2013 – present
     Associate Justice, March 1999 – September 2013
WINSTEAD SECHREST & MINICK P.C.,
     Shareholder, April 1987 - March 1999 (shareholder 1991)
LIDDELL, SAPP, ZIVLEY, HILL & LABOON (now LOCKE LORD, L.L.P.), Houston, Texas
     June 1983 - March 1987
Education
Duke University School of Law
     Master of Laws in Judicial Studies (2014)
Texas Tech University School of Law
     Juris Doctor (1983)
The University of Texas at Austin
     Bachelor of Business Administration in International Business (1980)
     Bachelor of Arts in Government (1980)
Professional Achievements and Recognition
Outstanding Texas Leader Award, John Ben Shepperd Leadership Institute, The University of Texas Permian Basin (2019)
Honoree, "Legal Historians in Texas Federal and State Judiciaries," The University of Houston Law Center/American Society for Legal History -Houston (2018)
Mission Ally Honoree, Houston Lawyers Association (2016)
Distinguished Alumnus Award from Texas Tech University School of Law (2015)
Merrill Hartman Pro Bono Judge Award from the State Bar of Texas (2014) 
"Modern Trailblazer" Award and Premier Women in Law Honoree,Association of Women Attorneys (2014)
Houston Bar Association President's Awards for Outstanding Service (2010, 2011)
"Appellate Judge of the Year," by Texas Association of Civil Trial and Appellate Specialists (2010)
"Judge of the Year" by Peace Officers Looking Into Courthouse Excellence (P.O.L.I.C.E., Inc.) (2007) 
State Bar of Texas Presidential Commendation for "Individual Leadership in Improving Justice in Texas" (2007)
Recognized for "Outstanding Service Given to Our School and Community" by Thurgood Marshall School of Law, Texas Southern University (2003) 
Featured in "Local Heroes," The Houston Lawyer Magazine (May/June 2010)
Featured in "A Profile in Professionalism," The Houston Lawyer Magazine (September/October 2010) 
Certified in Appellate Jurisprudence by the Texas College for Judicial Studies (2007; recertified in 2012)
Current Leadership Positions Within the Legal Profession
Immediate Past Chair, Board of Trustees, TEXAS CENTER FOR LEGAL ETHICS
Board of Trustees, Texas Tech Law School Foundation
Executive Committee, Garland R. Walker Inn of the American Inns of Court
Board of Trustees, Scribes-The American Society of Legal Writers
Judicial Leadership
Current Service
COUNCIL OF CHIEF JUDGES OF STATE COURTS OF APPEAL
Member, Executive Committee
Chair, Education Committee
COUNCIL OF CHIEF JUSTICES OF TEXAS COURTS OF APPEAL
Past Service
SUPREME COURT OF TEXAS ADVISORY COMMITTEE
SUPREME COURT OF TEXAS TASK FORCE ON THE CODE OF JUDICIAL CONDUCT
Distinguished Faculty, Texas Center for the Judiciary
Chair, Educational Programs, 27TH ANNUAL CONFERENCE OF THE NATIONAL ASSOCIATION OF WOMEN JUDGES
Membership in Professional Organizations
Elected Member, THE AMERICAN LAW INSTITUTE
Fellow, AMERICAN BAR FOUNDATION
Life Fellow, TEXAS BAR FOUNDATION
Fellow, HOUSTON BAR FOUNDATION
Life Fellow, HOUSTON YOUNG LAWYERS FOUNDATION
Judicial Member, American Inns of Court- Garland R. Walker Inn
Sustaining Member, TEXAS BAR COLLEGE
Member, Scribes-The American Society of Legal Writers
American Bar Association (various sections)
STATE BAR OF TEXAS (various sections)
HOUSTON BAR ASSOCIATION (various sections and committees)
ASSOCIATION OF WOMEN ATTORNEYS
AMERICAN JUDGES ASSOCIATION
Participation in Law-Related Activities
Texas Roundtable on the Well-Being of the Legal Profession
Presenter for Continuing Legal and Judicial Education Programs
Speaker for Schools and Community Groups
Guest Lecturer for Law School Classes
Judge for Law Student Advocacy Competitions
Author of Articles for Law Reviews and Other Legal Publications
Chair, "A Special Day at the Courthouse" (civic-education program for special-education students)
Admission to Bar and Courts
Admitted to the State Bar of Texas in 1983; while in private practice received the highest possible peer-review rating for professional excellence, skill, and integrity and was admitted to practice before the Supreme Court of the United States, the United States Court of Appeals for the Fifth Circuit, and the United States District Courts for the Northern, Southern, Eastern, and Western Districts of Texas.
Personal
Native Houstonian and sixth-generation Texan
Married since 1988; mother of four sons