Fourteenth Court of Appeals
Justice Martha Hill Jamison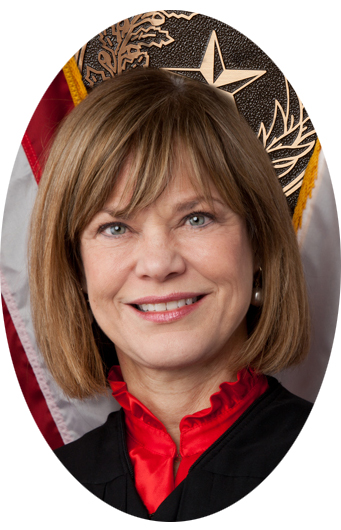 Place 5
Judge Martha Hill Jamison was elected to the 14th Court of Appeals in 2010. A mediator and a trial judge before coming to the court, Judge Jamison is a graduate of the University of Texas School of Law and is Board Certified in Civil Trial Law by the Texas Board of Legal Specialization.
Judge Jamison previously served as judge of the 164th Civil District Court, where she served as Civil Administrative Judge and Chair of the Legislative Committee. While on the bench, Judge Jamison has been highly rated in the Houston Bar Association's annual judicial evaluation polls.
Judge Jamison is an elected member of the American Law Institute and served as President of the American Judicature Society, a century-old non-partisan national organization dedicated to the administration of justice. Judge Jamison looks forward to continuing her tradition of service at a national level by advocating for the highest standards in judicial ethics and the selection of judges, while supporting our third branch of government as designed by the founders.
Judge Jamison graduated from Memorial High School in Houston and the University of Texas at Austin (Bachelor of Journalism), where she was named the Outstanding Woman Student and was in the first class of Friars (the oldest honorary organization at UT) to admit women. Prior to establishing her mediation practice, Judge Jamison was an Assistant United States Attorney in the Eastern District of Texas and practiced at the firm now known as Locke Lord LLP.
Judge Jamison is married to Bruce K. Jamison, co-owner of Old Smokey Products, and has three children. She is an active member of St. Luke's United Methodist church and she is a Senior Fellow of the American Leadership Forum (Class XXV).