Licensed Court Interpreters
Initial Licensure 
Becoming a Licensed Court Interpreter
Texas does not have reciprocity with other states; however, those seeking information on certification by endorsement must submit inquiries to courtinterpreters@txcourts.gov for information on this process.
To become a Licensed Court Interpreter, you must do the following:
Complete the Exam Orientation Course. Applicants must successfully complete a 6 hour Commission Approved Orientation course before they are eligible to take the written and oral examinations. The certificate of completion must be submitted with the Application for Licensure. 
Submit the Application for Licensure and Exam Registration Form.  You must apply for licensure and register for the exam via our online licensing and certification system. To apply online, please go to the online certification and licensing system on our home page. 
Submit the application fee. Please see the Fees section of this page for information on amounts due, acceptable forms of payment, etc.
Pass a criminal history background check by DPS and the FBI. Staff will email the required form needed to schedule their fingerprinting appointment to applicants who have not yet been fingerprinted for the JBCC, after we've received their applications.
Pass all parts of a Commission-approved examination.
Court Interpreter Fundamentals Tutorial
This tutorial is intended only as an introduction to the court interpreting profession for those interested in becoming licensed interpreters.  It DOES NOT replace the required orientation course discussed above.  Click on the video link below to view it.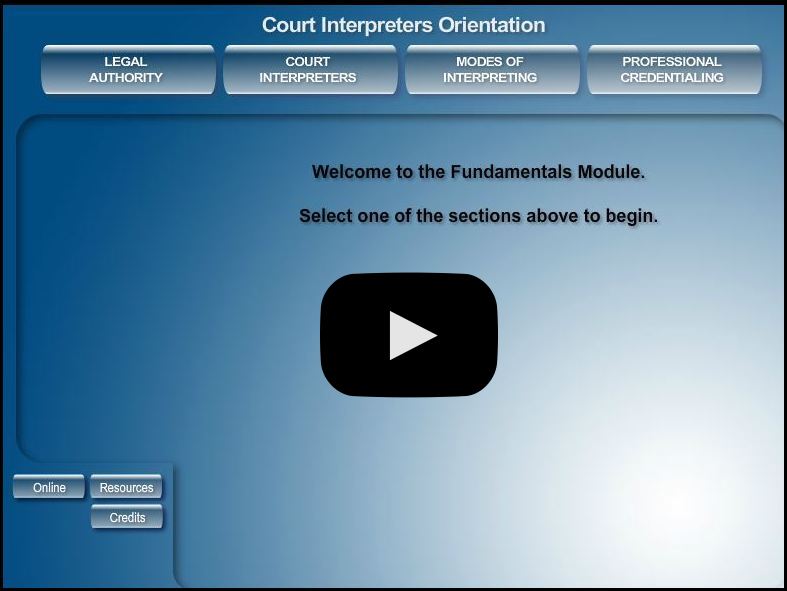 Orientation Course Requirement & Courses
List of Approved Orientation Courses
The 6 hour orientation course provides the basic knowledge, skills and abilities on all three major types of court interpreting; Sight, Consecutive and Simultaneous, to become a licensed court interpreter. The goal is for the candidate to achieve a high level of mastery of two languages, and specific performance skills in the modes of interpreting. Candidates should perform each type of interpreting skillfully enough to include everything that is said, preserve the tone and level of language of the speaker, neither changing nor adding anything to what is said.
The course is designed to help candidates deliver services in a manner faithful to all professional responsibilities and ethics, and court policies regarding court interpreting promulgated by the judiciary. The course should provide information and discussion about what the profession requires to help students decide whether and how to proceed with the pursuit of a license as a court interpreter.
Criminal History
On September 1, 2014, new electronic fingerprinting requirements took effect when the Licensed Court Interpreters (LCI) program transferred from TDLR to the Commission. All new LCI applicants, and those court interpreter licensees renewing under the JBCC, are required to obtain one-time electronic fingerprinting through the Texas Department of Public Safety Fingerprint Program, starting on September 1, 2014. 
Refer to section 3.5 of the JBCC Rules for additional details on this requirement.
Under section 3.5 (a) of the JBCC Rules, an initial or renewal application may be denied, and a regulated person may be disciplined, if the person's criminal history or other information indicates that the person lacks the honesty, trustworthiness, or integrity to hold the certification, registration, or license.   
Please be aware that we must have an application from you before we can provide the instructions, service code and disclosure language that is required to make your fingerprinting appointment.  JBCC staff will contact you once we have your application.  Please do not rely on information or forms that you receive from a source other than the JBCC and its staff.  Doing so may result in your having to be re-fingerprinted, and thus delays in processing your application.
Expiration
Your approval to provide court interpreting services will expire two (2) years after the last day of the month of certification and, upon expiration, unless renewed, your name will be removed from the list of certified court interpreters in our online licensing system.
Fees
All fees are non-refundable.
Application Fee: $200.00
Acceptable forms of payment:  Credit Card or Debit Card
Make payable to: The Office of Court Administration
Updated: 01/24/2019