Guardianship Compliance Project
Welcome to the Guardianship Compliance Program (GCP) 
Mission
The mission of the Guardianship Compliance Project is to assist the courts in protecting our most vulnerable citizens and their assets. 
Guardianship Compliance Project (GCP)
At the direction of the Texas Judicial Council and Legislature, the Office of Court Administration launched the Guardianship Compliance Project to review guardianships in multiple counties to determine the effectiveness of existing safeguards.
The study revealed most Texas Courts lack the personnel and resources to sufficiently provide oversight and protection for the elderly and incapacitated persons. The study also revealed serious failings in monitoring and managing guardianships. It has been determined that regular reports and accountings are not filed in almost half of all guardianships. Below are the services offered to enhance the protections to the elderly and incapacitated.
• Review all guardianship cases to identify compliance and reporting deficiencies by the guardian
• Review annual accountings and well-being reports to spot fraud, neglect, and exploitation
• Provide accurate list of active and closed cases for judicial review
• Conduct research on location of guardians and wards
• Develop best practices in managing guardianship cases
• Initiate communication with guardian
• Assist court with compliance dockets
• Prepare report for the court on findings with recommendations
• Outreach and training for courts and clerks
Registration of Guardianships (eff. June 1, 2018)
SB 1096 (Zaffirini/Smithee) created a safety net to ensure guardians are registered, properly trained, receive a criminal history background check, and guardian contact data is provided to DPS and its Law Enforcement Terminal System (TLETS) to identify persons under guardianship if law enforcement contact is made with them.

OCA developed a database to be filled with a registry of every guardianship in the state. As a registration prerequisite, the OCA conducts a criminal history background check and provides online training to proposed guardians. To date 19,752 proposed guardians have submitted data for registration, 5,588 have completed the training and over 2,400 criminal histories have been provided to the courts.

While the guardianship training is currently only available in English, OCA is developing the guardianship training in Spanish. For Information on guardianship registrations, visit www.txcourts.gov/jbcc/register-a-guardianship/.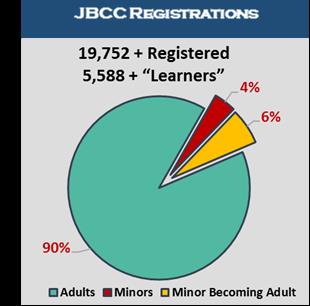 Guardianship Compliance Training and Outreach
• Presentations on New Guardianship Registration Requirements, Webpage on Online Registration Requirements and Processing New and Pre-Existing JBCC Guardianship Registrations:
o September 21, Guadalupe County Bar Association
o October 4, Tarrant County Bar Association
o October 25, NCSC Visit for GCP, registration and training overview
o November 15, Texas Association of Counties Conference
o December 18, Texas Guardianship Association Legislative Forum
o February 15, Texas Association of Counties Court Assistants Conference
o March 27, Texas College of Probate Judges Conference
o April 5, State Bar Probate CLE
o April 16, Texas Guardianship Association Annual Conference 
Senate Bill 31, 86th R.S., Zaffirini et al: Implementation of the Guardianship Abuse Fraud and Exploitation Deterrence Program
While the reforms implemented to date have improved the guardianship system in Texas, a key to the reforms' success is ensuring compliance with the laws and reviewing guardianship activities to spot potential abuse, fraud, and exploitation.
To provide a safety net for all vulnerable persons under the care of guardians, the Judicial Council proposes expanding the GCP statewide as proposed in OCA's legislative appropriations request and SB 31 (86th R.S., Zaffirini et al). Only by pro-actively training court personnel and proposed guardians on the fiduciary duties of guardianship, as well as auditing reports and accountings to detect and deter fraud and exploitation, will Texas be adequately braced to ensure the safety and well-being of this vulnerable and growing population.
Registration of Guardianship Program Senate Bill 36 (September 1, 2018)
SB 36 (Zaffirini/Thompson) created a registration for guardianship programs. This will allow JBCC to ensure that guardianship programs adhere to minimum standards that further the welfare of those under a program's care. The program registration will increase transparency by requiring mandatory reporting to the JBCC by the program. To date the JBCC has registered 17 guardianship programs throughout the state with one additional program pending registration.