Justice Jeff Brown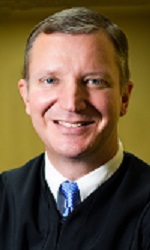 Place 6
Jeff Brown was appointed to Texas Supreme Court by Governor Rick Perry in September 2013 to replace Justice Nathan L. Hecht after Hecht's appointment as chief justice. Justice Brown took his oath October 3.
Since 2007 he had been a justice on Houston's 14th Court of Appeals.
From 2001 into 2007 he served as judge of the 55th District Court. In 2009 Chief Justice Wallace Jefferson appointed Brown to the state's Multi-District Litigation Panel. In 2011 he was named Appellate Judge of the Year by the Texas Association of Civil Trial & Appellate Specialists.
Justice Brown holds board certification in civil trial law. Before becoming a judge, he practiced at Baker Botts LLP in Houston, trying jury cases throughout Southeast Texas. Before joining Baker Botts, he was a briefing attorney to Justices Jack Hightower and Greg Abbott on the Texas Supreme Court.
He is the fourth former law clerk to become a justice on the Court.
He earned his bachelor's degree in English from the University of Texas and his law degree with high honors from the University of Houston. While in law school he served as chief note and comment editor of the Houston Law Review.
In 2006, the Texas Young Lawyers Association named Brown its Outstanding Young Lawyer of Texas. He has been active in state and local bar activities, including service as judicial liaison to the Houston Young Lawyers Association, chairman of HYLA's Non-Profit Law Committee, co-chairman of the Houston Bar Association's John J. Eikenburg Law Week Fun Run and vice-chairman of TYLA's National Trial Competition. He has served on the boards of the Texas Lyceum, Houston Law Review, University of Houston Law Alumni Association, Texas Supreme Court Historical Society, Texas Center for the Judiciary and Christian Community Service Center. He also serves on LifeHouse of Houston's advisory board and as a Houston Livestock Show & Rodeo committeeman.
An Eagle Scout, Jeff served on the Sam Houston Area Boy Scouts' Urban Scouting Committee, an effort to bring Scouting to the inner city. He remains an active Scout leader, and serves as Scouting Ministries Coordinator at his church. Jeff also worked on Operation Compassion, serving food to Katrina evacuees in 2005. The Texas Jaycees named him one of Five Outstanding Young Texans in 2008.
Justice Brown has been an adjunct law professor at the University of Houston and is a member of the State Bar's Pattern Jury Charge Committee. He also serves on the editorial board of the The Advocate, the quarterly journal of the State Bar's Litigation Section. In 2008 he was elected to the American Law Institute. He has also taught for the National Judicial College.
He and his wife, Susannah, a schoolteacher, have three children, Kathleen, Rob and Gus. They are members of Bellaire United Methodist Church in Bellaire.
Justice Brown was elected in 2014 and his term will expire on December 31, 2018.