In Memory of Holden Tanner (1995-2022) 
In Memory of Holden Tanner (1995-2022)
Holden Thomas Tanner, a law clerk at the Texas Supreme Court for Justice Jimmy Blacklock, passed from this life unexpectedly on March 13, 2022.
Holden served the Supreme Court and the people of Texas with uncommon energy and excellence during his brief time with us. He will long be remembered at the Court for his generous spirit of friendship, his booming laughter that rang through our halls, and the outstanding legal work he produced.
A native of Beaumont, Holden was home-schooled by his loving parents before graduating Summa Cum Laude from the University of Houston, B.A., and Yale Law School. He was scheduled to serve next year as a law clerk to Judge Don R. Willett of the 5th Circuit Court of Appeals. Beyond that, Holden's professional horizons were limitless.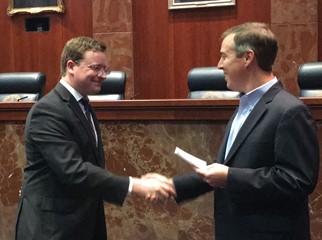 He is survived by his wife and their two precious children, ages 2 and 6 months, as well as many other loving family members and friends whose lives he touched. We mourn Holden's untimely passing and celebrate the blessing of the time we had with him.
Holden Tanner with Justice Jimmy Blacklock, right.