Justice Busby's Investiture Set for 4 p.m. Friday 
TEXAS SUPREME COURT advisory
Contact: Osler McCarthy
512.463.1441 or email

For Friday, September 6, 2019
JUSTICE BUSBY'S INVESTITURE SET FRIDAY
Justice J. Brett Busby's ceremonial investiture will be at 4 p.m. Friday in the Texas House of Representatives Chamber. Associate Justice Neil M. Gorsuch will administer the oath.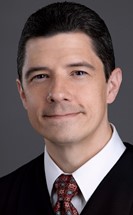 The public is invited.
Justice Busby has been on the Court since March 20. He took his oath then from Texas Gov. Greg Abbott hours after the Texas Senate unanimously approved his nomination.
Before his appointment, Justice Busby served on Houston's 14th Court of Appeals and, before that, was in private practice in Houston, specializing in appellate law.
Busby served as a law clerk to Judge Gerald Bard Tjoflat of the 11th Circuit U.S. Court of Appeals and at the U.S. Supreme Court to retired Associate Justice Byron White and Associate Justice John Paul Stevens.
He is a graduate of Duke University and Columbia Law School and served as an adjunct professor at the University of Texas Law School, where he taught the U.S. Supreme Court Litigation Clinic. The investiture ceremony will feature a tribute to Justice Johnson and remarks by Justice Gorsuch, Judge Tjoflat and Gov. Abbott.