Justice Russell Lloyd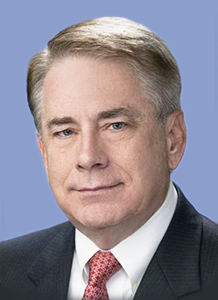 Place 3
Justice Russell Lloyd was elected to the First Court of Appeals and took the oath of office on January 1, 2015. He has practiced trial and appellate law for thirty-five years. He served for ten years as Judge of the 334th Civil District Court in Harris County, Texas, where he presided over thousands of cases and more than 300 jury trials. He received national recognition for his work as presiding judge for several of the nation's largest mass action dockets, including the Harris County Polybutylene Pipe Docket, a nationwide collection of 104,000 cases. He was nominated by President George H.W. Bush to the United States District Court for the Southern District of Texas.
Justice Lloyd was a prosecutor with the Harris County District Attorney's Office, where he tried hundreds of cases in the trial and appellate divisions. He practiced civil trial and appellate law with prestigious Houston firms and represented plaintiffs and defendants, concentrating on class actions, products liability and commercial disputes in state and federal courts across the nation.
Justice Lloyd served twenty years in the military in both the active and reserve components. He is a Vietnam veteran, a former Paratrooper and an officer in the Judge Advocate General Corps. During his military service, he received numerous decorations, including the Air Force Commendation Medal, Army Commendation Medal and Meritorious Service Medal.
Justice Lloyd received his Doctor of Jurisprudence degree from the University of Texas School of Law and a Bachelor of Arts in History from the University of Houston. After law school, Justice Lloyd served as a Briefing Attorney for the Texas Court of Criminal Appeals.
Justice Lloyd is a sixth-generation Texan and Eagle Scout. He has been married for thirty one years to Mary Lloyd, also an attorney, and they are the parents of two attorneys, Leslie and James. They are active parishioners at St. John the Divine Episcopal Church. Justice Lloyd is a musician and plays bassoon in Houston Sinfonietta.