Texas Supreme Court advisory

Contact: Osler McCarthy, staff attorney for public information
512.463.1441 or click for email

July 17, 2008
COURT'S GENERAL COUNSEL LEADS JUSTICE ADMINISTRATION,
COORDINATION AND LEGISLATIVE INFORMATION EFFORTS;
KRAATZ HIRED AS CENTRAL STAFF ATTORNEY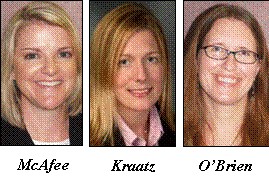 Alice McAfee, appointed general counsel of the Supreme Court of Texas in March, has been charged with coordination of several judicial-administration efforts as well as the Court's initiatives for the 2009 legislative session.

McAfee, hired as the Court's mandamus attorney in September 2006, replaced Lisa Hobbs as general counsel. Hobbs returned to private practice.
As general counsel McAfee is responsible for coordinating Supreme Court initiatives such as the Judicial Task Force on Emergency Preparedness and the Court's Permanent Commission on Children, Youth and Families. She interacts regularly with the judiciary, state agencies and the Legislature and also advises the Texas Judicial Council.
Before she joined the Court, McAfee was an associate with Baker Botts L.L.P. in Austin. She graduated with honors from the University of Texas School of Law and holds a master's in journalism and bachelor's in history from UT. She served as articles editor for the Texas Law Review.

McAfee had been appointed to the new central staff attorney position last fall, a position Chief Justice Jefferson sought from the 2007 Legislature to manage the docket more efficiently. Significant turnover on the Court – amounting to 10 new justices in five years through September 2005 – reduced the Court's output and created the need for additional personnel.
The Court has hired Megan Kraatz as the new central staff attorney. Kraatz, who will join the Court in August, is a staff attorney for Justice Bob Pemberton on the Third Court of Appeals in Austin.
Kraatz, a Phi Beta Kappa graduate of the University of Missouri-Columbia and graduate of Northwestern University School of Law, served as a law clerk to Chief Justice Jefferson in 2004-05. After her clerkship, she worked for Andrews Kurth in Austin and then led a special project assisting transplanted Hurricane Katrina refugees for Texas Appleseed, a non-profit public-interest legal organization.
McAfee's replacement as mandamus attorney is Shelby O'Brien. O'Brien served almost five and half years as an attorney for the Legislative Council before she joined the Court. She is a graduate of the University of Maryland and graduated with honors from UT School of Law.