Annual Statistical Reports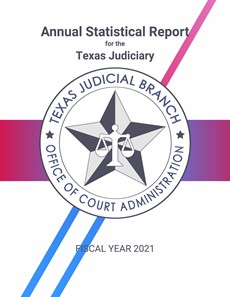 The Office of Court Administration produces the Annual Statistical Report covering each state fiscal year beginning September 1 and ending August 31. The report includes an overview of Texas court structure and jurisdiction, analyses of case activity and trends, and statistics from appellate and trial courts.
FY 2022 Annual Statistical Report
FY 2022 (currently in production)
Past Annual Statistical Reports
Annual Statistical Supplement 
The Annual Statistical Supplement consists of individual data files including information on judges and detailed case activity statistics for each court level.