Chief Justice Bonnie Sudderth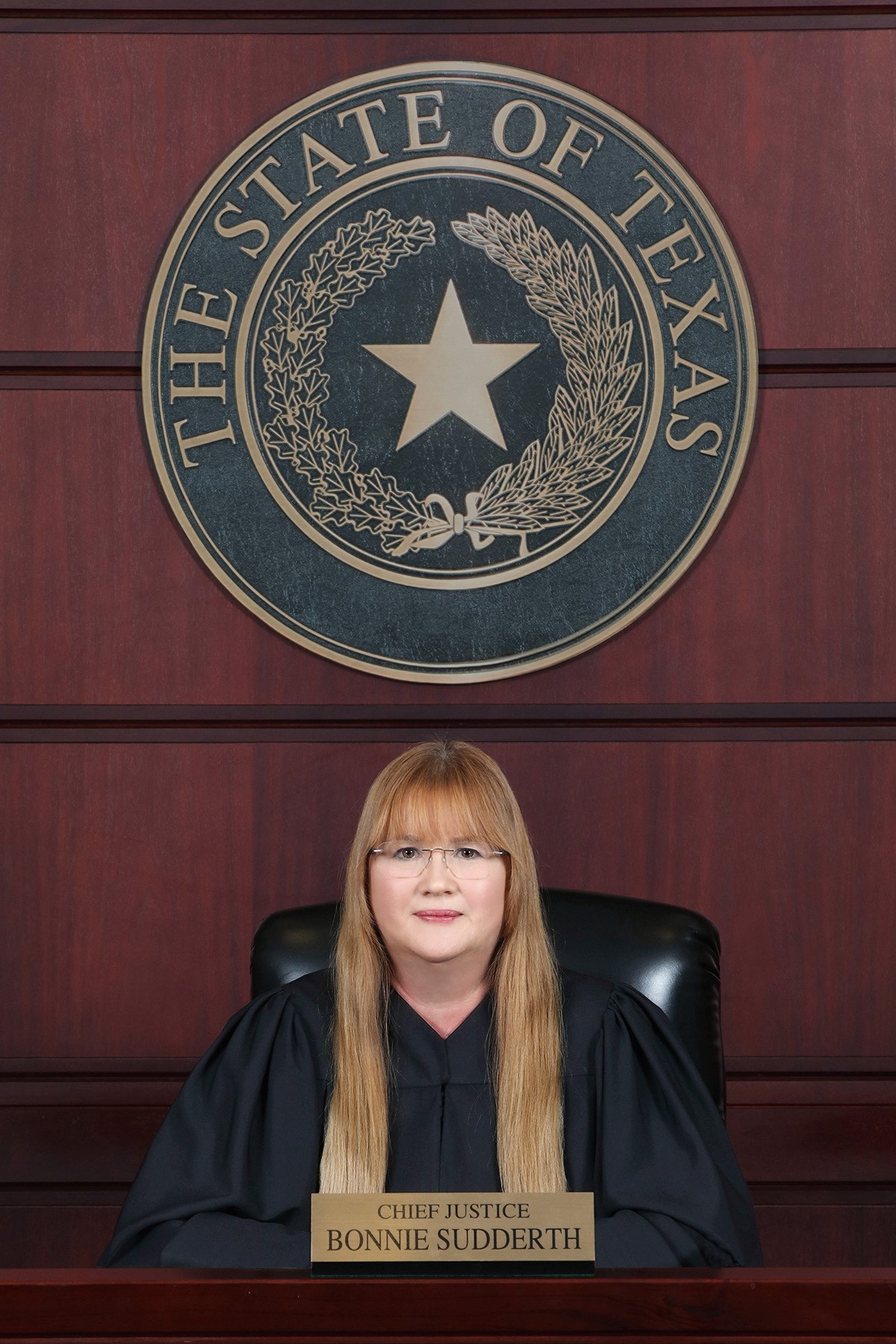 Prior to her appointment to the Second Court of Appeals in 2015, Justice Bonnie Sudderth served as a trial court judge for 25 years – six years as a judge and chief judge of the Fort Worth Municipal Courts and almost 19 years as a state district judge in Tarrant County.
For over 20 years, Judge Sudderth has also served as an Adjunct Professor at Texas A&M University Law School (formerly Texas Wesleyan University Law School), teaching Texas Trials & Appeals to upper-level law students.  In 2008, the Texas Wesleyan Law School Alumni Association conferred upon her the Outstanding Adjunct Faculty Member Award.  In 2011, Texas Wesleyan University Law School awarded her the Excellence in Justice Award.
For decades Justice Sudderth has served as a mentor to law students and young lawyers in the community and throughout the state.  In recognition of her service, she received the Outstanding Mentor Award from both the Tarrant County Young Lawyers Association and the Texas Young Lawyers Association in 2008.
Justice Sudderth is active in the Eldon B. Mahon Inn of Court as an Emeritus Master of the Bench, Past President, a member of the Honorary Serjeant's Inn and as a James B. Barlow Emeritus Fellow.  On two occasions, she has participated as a delegate from the American Inns of Court to the Middle Temple and Inner Temple English Inns of Court in London.  She currently serves as the webmaster for the Mahon Inn.
Sudderth is a prolific writer and speaker on legal topics, and she has twice received the "Outstanding Series of Articles" award from the State Bar of Texas. She is Board Certified in Civil Trial Law and Personal Injury Trial Law and currently serves as a Commissioner for the Civil Trial Examination on the Texas Board of Legal Specialization.
She earned a Bachelor of Science in Public Affairs and Public Administration from the University of Southern California in 1982 and J.D. from the University of Texas Law School in 1985.  During those years she also studied abroad, both in France and England.  But believing that education and learning should be an ongoing endeavor, Sudderth returned to law school more than 30 years later.  She is currently enrolled at Duke University Law School, and when she completes her master's thesis in 2020, she will receive an LLM in Judicial Studies.