Chief Justice Hecht Honored by Senate for His Historic Tenure 
TEXAS SUPREME COURT advisory
Contact: Osler McCarthy
512.463.1441 or email
RESOLVED: SENATORS CITE CHIEF JUSTICE HECHT FOR HIS 30 YEARS ON THE COURT
'No single justice has had more influence on the Texas legal system'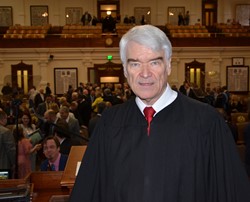 Texas senators on Thursday honored Chief Justice Nathan L. Hecht for his 30 years' tenure on the Texas Supreme Court, the longest of any justice in Texas history.
In a presentation in the Senate, the resolution noted that since he joined the Court in 1989 Chief Justice Hecht "has reshaped Texas courts to be more conservative in addressing civil litigation and more progressive in matters relating to social justice…." It cited him as the first Republican elected to the Court since Reconstruction and for being a pioneer for court efficiency and modern rules and procedures and for advocating civil legal services for those who cannot afford them.
Many legal historians, the resolution continued, "agree that no single justice has had more influence on the Texas legal system" and "his landmark opinions have been referenced in courts throughout the nation…."
With him for the presentation on the Senate floor were Justices Jeff Boyd and John Devine.