Court Clerk Blake Hawthorne to be Awarded Appellate-Justice Honor 
TEXAS SUPREME COURT advisory
Contact: Osler McCarthy
512.463.1441 or email

COURT CLERK BLAKE HAWTHORNE TO BE HONORED WITH APPELLATE-JUSTICE AWARD
Hawthorne follows Justice Anthony Kennedy as latest recipient
A leading national legal organization will present Blake A. Hawthorne, the Texas Supreme Court's clerk of the Court, with the Kathleen McCree Lewis Award for Appellate Justice at its conference in April.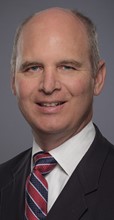 Houston lawyer Kevin Dubose, treasurer of the American Academy of Appellate Lawyers, informed Hawthorne of the honor this week, telling him the invitation-only professional group was recognizing Hawthorne's "trail-blazing" work in transforming court records to electronic format.
"We have known for years that Blake's significant contributions to streamlining the Texas Supreme Court's records have significantly benefited not only lawyers but the public," Chief Justice Nathan L. Hecht said, "but this award confirms the national reach of what he has done."
Dubose said the American Academy of Appellate Lawyers provides its members opportunities to compare about court practices. "Those comparisons have made it clear that Texas appellate courts have been years ahead of other jurisdictions in terms of electronic filings, digitalized records and other advanced technological features," he said. "The Academy recognized that much of the credit for those advancements goes to ... Blake Hawthorne." 
Hawthorne served in 2015-16 as president of the National Conference of Appellate Court Clerks.
The Kathleen McCree Lewis Award, named for a late president of the appellate-lawyers organization, honors people or groups for exceptional recent contributions to appellate practice, according to the group's website. Recipients may be individual judges, entire courts, court administrators, law professors, or active or retired lawyers.
The last recipient of the periodic award, given in 2016, is retired U.S. Supreme Court Justice Anthony M. Kennedy.