Gov. Abbott Swears In a New Justice, J. Brett Busby 
HOURS AFTER SENATE CONFIRMATION, JUSTICE BUSBY
TAKES OATH TO JOIN THE TEXAS SUPREME COURT
Contact: Osler McCarthy
512.463.1441 or click for email

Standing before Texas Gov. Greg Abbott, who nominated him, J. Brett Busby repeated the oath of office as the governor delivered it Wednesday afternoon, becoming the Court's newest justice.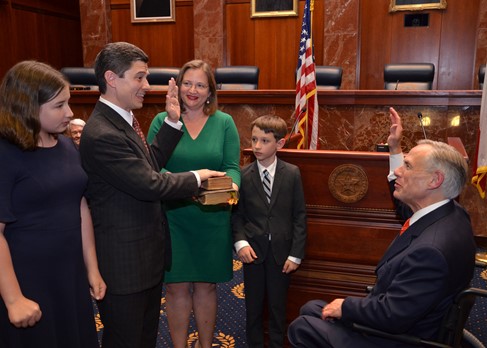 A formal investiture will occur later.

The oath in the Courtroom, before a crowd that included his family and judges on the Texas Court of Criminal Appeals and Austin's Third Court of Appeals as well as others from Houston, Dallas and Collin County, followed by hours the Texas Senate's 31-0 vote to confirm him. Abbott nominated Busby in February to fill the seat vacated by Justice Phil Johnson's retirement Dec. 31.

Busby thanked all, including his wife, Erin Glenn Busby, whom he met when they both clerked for the U.S. Supreme Cour

t. "Her support and sacrifices are a big part of why I'm standing here today."

He served on the 14th Court of Appeals in Houston from 2012 through 2018. He is a graduate of Duke University and Columbia Law School and, after Columbia, served as a law clerk at the U.S. Supreme Court to then-retired Justice Byron White and Justice John Paul Stevens. Busby practiced law in Houston.