History made? Texas, Arkansas high courts hear cases in Texarkana 
TEXAS SUPREME COURT advisory

Contact: Osler McCarthy
512.463.1441 or click for email

 For Thursday, January 31, 2019
TWO ARGUMENTS HELD THURSDAY IN TEXARKANA
The Texarkana docket coincides with the Arkansas Supreme Court's in Texarkana, Ark.
In what appears a first for two state supreme courts, the highest courts in Texas and Arkansas conducted oral arguments Wednesday and Thursday in a joint appearance in Texarkana.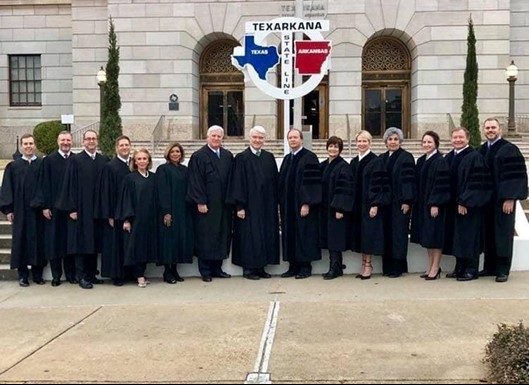 Arkansas Supreme Court justices heard one case at 10 a.m. Wednesday at Arkansas High School, east of State Line Avenue, in its "Appeals on Wheels" outreach program. Texas justices heard two cases at 9 a.m. Thursday at Texas High School, west of the state line.

Each year the Texas Supreme Court schedules two dockets outside Austin.

"When hearing cases outside Austin, we're often in a community for the first time and making local history," Texas Chief Justice Nathan L. Hecht said. "But this time in Texarkana we're not only holding court there for the first time, but also this may be the first for supreme courts from adjacent states to hear arguments in conjunction with each other."

[Photo on the state line by Debbie Brower Photography, Nash, Texas]

The National Center for State Courts says this is the first known such occurrence of two state supreme courts holding sessions in a joint appearance.

Texas justices began hearing cases beyond Austin in 1998 after voters the year before amended the state constitution to allow the Supreme Court to "sit" for cases other than in Austin. Since then the court has routinely conducted its docket twice each year at law schools, universities and high schools.

Josh Morriss, chief justice of the Texarkana Court of Appeals, said the idea of the Texarkana appearance was hatched at a judicial conference. "I was visiting with Justice [Jeff] Brown at a break and said something silly like, 'We ought to get y'all to come to Texarkana some time.'" At another conference Justice Brown mentioned to Arkansas Supreme Court Justice Shawn Womack that the Texas court was going to Texarkana. Womack pressed for a date.

"And the rest is history," Brown said.

"The Texarkana courthouse is unlike any other federal building in the nation because it is situated in both Arkansas and Texas. In the spirit of sharing and coming together, we thought it would be a special and distinct opportunity for students in Arkansas and Texas to observe an oral argument and to meet members of both supreme courts," said Arkansas Chief Justice John Dan Kemp. "All of the justices will benefit as well because this event will allow us to meet and discuss ideas about improving the administration of justice."

That idea-sharing continues an effort by Hecht to explore with other supreme courts mutual problems and approaches to judicial and extra-judicial decision-making. "Each time we've talked with another state supreme court we have come away with new ideas about how we can operate," Hecht said. "We look forward to discussing with our Arkansas colleagues the mutual challenges we face as courts and perhaps different approaches to solving them."

The Texas arguments in the Sullivan Performing Arts Center at Texas High School:

17-0563
Baylor Scott and White, Hillcrest Medical Center v. Ruthen James Weems III
from McLennan County and the Texarkana Court of Appeals
¶ For petitioner: Robert Little, Waco
¶ For respondent: Sean M. Reagan, Houston
            In this case Ruthen James Weems sued a Waco hospital for misdiagnosing another man's injury as a gunshot wound that Weems alleges led to his indictment for attempted murder. The legal issue is whether Weems's "fraudulent-misdiagnosis" lawsuit should be dismissed under the state's medical-malpractice law because he never filed an expert's evaluation to show his suit was not frivolous. Under the Texas health-care-liability statute a person who sues a health-care provider like Waco's Hillcrest Medical Center must file an expert report to show the claim has legal merit or the suit must be dismissed if such a report is not filed by a set deadline. Weems contends a nurse who treated the other man – a man involved in an altercation with Weems in what was described as a drug deal gone bad – listed the other man's injury as a gunshot wound, knowing it was false. Using that diagnosis, a grand jury indicted Weems for attempted murder. But in his suit, which he filed without a lawyer, Weems argues the wounded man's injury was not a gunshot wound and did not have characteristics of one. The hospital argues the trial judge properly dismissed Weems's lawsuit because essentially it was for medical malpractice against the hospital, even if Weems was not the patient. In a decision for Weems, the court of appeals reversed the trial judge's dismissal of his lawsuit.
Briefs
Court of appeals opinion

18-0099
PHI Inc. v. Texas Juvenile Justice Department
from Cooke County and the Fort Worth Court of Appeals
¶ For petitioner: Steven D. Sanfelippo, Dallas
¶ For respondent: Philip A. Lionberger, Austin
            This case arises from a lawsuit a company brought for damages to its helicopter when a state-owned van crashed into it. The van's driver, an employee of the Texas Juvenile Justice Department, thought he put it in "park," locked the doors and headed into a Gainesville hospital when the van started rolling toward the helicopter ambulance. The driver chased after it, but couldn't stop it before it hit the helicopter's tail, causing $74,000 in damage. The first issue in this appeal is whether the Juvenile Justice Department will have to pay for the damage. The state argues it's immune because so-called sovereign immunity, the law that generally protects government from being sued and from being liable, is waived only when negligence results from the "use" or "operation" of a motor vehicle. So in this case, the state contends, the van's driver parked the van –and supposedly secured it – but was not operating or using it after the driver walked away from it. After the accident, state employees found the shift handle would not go into park. That raises a second issue: whether faulty maintenance can be a factor to determine whether a vehicle is operated or used when it's involved in an accident. The trial court ruled the Juvenile Justice Department waived its immunity because the accident resulted from operating or using the van. The court of appeals reversed.
Briefs
Court of appeals opinion

Link for archived video webcasts by TexasBarCLE.com:

The Court's staff attorney for public information prepares these summaries, which reflect his judgment alone on facts and legal issues and in no way represent the Court's opinion about case merits.