Justice Bland's Investiture Set Today, to be Webcast 
TEXAS SUPREME COURT advisory

Contact: Osler McCarthy
512.463.1441 or email
For Thursday, November 7, 2019
JUSTICE BLAND'S FORMAL INVESTITURE SCHEDULED TODAY
Ceremony will feature tribute to former Justice Jeff Brown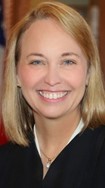 Justice Jane Bland's formal investiture will be at 2 p.m. today in the Texas House of Representatives chamber with Fifth Circuit U.S. Court of Appeals Priscilla R. Owen administering the oath.
The investiture will be broadcast at this link.
Justice Bland, the newest member of the Texas Supreme Court, was officially sworn in by Gov. Greg Abbott in September. Gov. Abbott appointed her in September to replace Justice Jeff Brown, who left the Court to become U.S. District Court judge for Texas's Southern District. Judge Brown is based in Galveston.
Chief Justice Nathan L. Hecht will pay tribute to Brown.
Bland served on Houston's First Court of Appeals and, before that, the Harris County District Court. Until Abbott appointed her appointed to the Supreme Court she was a partner with the Vinson & Elkins law firm in Houston.