Justice Ted Z. Robertson, 1921-2017 
TEXAS SUPREME COURT advisory
Contact: Osler McCarthy
512.463.1441

TED Z. ROBERTSON, 1921-2017
Private services are planned for former Texas Supreme Court Justice Ted Z. Robertson, who died Friday at his home in Dallas. Robertson, from San Antonio, served on the Court from 1982 through 1988 and is credited for helping lead to the Court's modern system of discretionary review.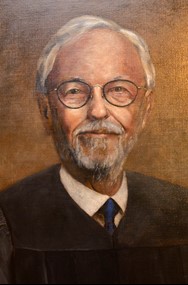 Robertson was 96.
He served as a Dallas County probate and juvenile judge, then as state district judge in Dallas County, and at the end of his six-year tenure on the Supreme Court unsuccessfully challenged then-newly appointed Chief Justice Tom Phillips in 1988.
Robertson was elected to the Supreme Court to fill Jack Pope's position after Pope announced his retirement. Clements then appointed Robertson to fill the last month of Pope's term after Clements appointed Pope chief justice to replace retiring Joe R. Greenhill in 1982.
"The Court, as a family, mourns the passing of one of us as a loss for all left behind," Chief Justice Nathan L. Hecht said. "Ted Z. Robertson served this state in four distinct judicial positions that made his perspective on this Court often broad and varied."
Theodore Zanderson Robertson was born September 28, 1921, and traced his family to the earliest American settlers in Texas. His great-great-grandfather, Sterling Clack Robertson, was an empresario from Tennessee who founded Robertson Colony in the Brazos River Valley in the 1830s. Sterling Robertson fought at the Battle of San Jacinto, signed both the Texas Declaration of Independence and the Constitution of the Republic of Texas, and was a Texas senator in the first two sessions of the Congress of the Republic of Texas.
Ted Z. Robertson grew up in San Antonio, where he attended public schools. He was a graduate of Texas A&I University in Kingsville (now Texas A&M University-Kingsville), then earned his law degree in 1949 from St. Mary's University after serving almost four years in the U.S. Coast Guard during World War II, much of it in the South Pacific.
His ship, the USS Etamin, a Navy cargo vessel operated by the Coast Guard, was struck and disabled by a Japanese torpedo in 1944. He spent the night in water off the coast of the Philippines.
"Growing up in South Texas, being torpedoed in the South Pacific, studying law in San Antonio and practicing law with Sam Houston Clinton and Oscar Mauzy would have been enough for any one attorney," said George "Tex" Quesada, a Dallas attorney who practiced law with him after Robertson left the Court. "Ted Z. went on to serve as a judge in juvenile court, probate court, district court, the court of appeals and the Supreme Court of Texas.
"He was a true lawyers' lawyer and a judge's judge."
Retired Justice Raul A. Gonzalez, who served with Robertson on the Court for more than four years, called him "a congenial colleague who brought a wealth of judicial experience to the Court. He was easy to talk to even when we were on opposite sides of an issue. May he rest in peace." 
Following law school Robertson practiced law in San Antonio and Dallas until 1960, then headed the Dallas County District Attorney's civil department. In 1965 he was appointed to the newly created Dallas County Probate Court No. 2, then in 1969 to a newly created Dallas County juvenile court. In 1975 Gov. Dolph Briscoe chose him for 95th District Court of Dallas County, then the following year appointed him to the Dallas Court of Civil Appeals.
In 1981 St. Mary's University honored him as a distinguished law alumnus.
After Clements appointed Robertson to the Supreme Court in 1982, he assumed the bench to fill Pope's unexpired term in December and won election for a term that ended in December 1988. Rather than seek re-election, he ran against Phillips in 1988.
In a 1985 Texas Bar Journal article and more comprehensive law-review article Robertson advocated the Court's eventual shift from its writ-of-error system to one based on discretionary review of cases that presented issues bearing on their importance to Texas jurisprudence.
"Like several of his colleagues, Judge Robertson thought the Texas Supreme Court disserved the public by spending the bulk of its time grading the homework of the courts of appeal, instead of concentrating its time and resources on those cases that raised issues of general importance," a former law clerk, Professor James Paulsen of South Texas College of Law, said. "He advocated for abolition of the writ-of-error system and saw the Legislature enact reforms along those lines in 1987."
In a video interview in 1987 at Abilene Christian University, Robertson said he supported the Texas judicial-selection system and rejected arguments that judges should be appointed – a key issue in Supreme Court races. "The system isn't broken and I don't believe in fixing something that's not broken," he said.
"Judges should be answerable to the people just like any other elected official."
In the interview Robertson, who had announced he would run for chief justice, told ACU Vice President Gary McCaleb: "It's a brass ring that comes around once in a lifetime and I've been in the judiciary all my life, practically, and it's just something I didn't think would come around.
"And for me to be able to follow in the footsteps of Jack Pope and people like that, illustrious chief justices, it would be a great way to cap off a career."