Justice Steven Lee Smith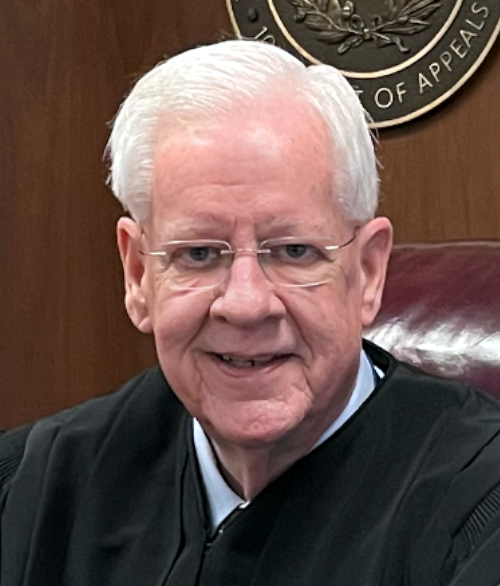 Place 3
Justice Smith was appointed to the Tenth Court of Appeals by Governor Greg Abbott effective August 6, 2021. Prior to joining the Court, Justice Smith served as Judge of the 361st District Court for Brazos County for more than 22 years, and as Judge of Brazos County Court at Law No. 1 from 1995-1998.
Justice Smith is a graduate of Abilene Christian University and the University of Texas School of Law. Following his law school graduation in 1977, Justice Smith engaged in private practice in the Bryan/College station area with Dillon & Giesenschlag; Dillon, Lewis, Elmore & Smith; and Hoelscher, Lipsey, Elmore and Smith. He also served as Municipal Judge for the City of College Station from 1988 through 1994.
Justice Smith is a Sustaining Life Fellow of both the State Bar of Texas and the American Bar Association. He holds a Certificate in General Jurisdiction Trial Skills from the National Judicial College, and has served as a faculty member since 2002. He has also taught judicial education courses for the Texas Center for the Judiciary and judicial education entities in 13 states. During 2010-2011, Justice Smith was Chair of the Judicial Section of the State Bar of Texas and received a Presidential Commendation from the Bar.
Justice Smith has a long record of volunteer service in the Bryan/College Station community. He presently serves on the Board of Directors of Foster's Home for Children in Stephenville, was a Trustee for Abilene Christian University from 2001-2017, and is now a Trustee Emeritus of ACU. He and his late wife, Becky, are the parents of Christopher, president of a technology firm in Abilene and Laura, an attorney in Washington, DC.
Chamber Staff
Staff Attorneys
Rachelle Gee
Richard Bradley