Legal Aid 
Legal Aid Resources
Can't Afford a Lawyer?
The courts do not provide direct legal services, represent individuals in legal matters, maintain a list of pro bono attorneys, or match individuals with pro bono attorneys. Please understand that funding for legal services is extremely limited and as a result, programs must turn away many with serious legal needs. At most, the State Bar of Texas can offer you referrals to low-cost civil legal services agencies in your area. For a listing of legal service providers by county, see the Referral Directory for Low-Income Texans (PDF).
If you do not qualify for legal aid, contact the Lawyer Referral & Information Service at (800) 252-9690. Through the Lawyer Referral Information Service, a person may have a thirty-minute consultation with an attorney for $20. At the end of the consultation, the attorney and individual may discuss possible representation and price structure. Please understand that the Lawyer Referral Information Service is not a pro bono or reduced-fee program.
Other Helpful Resources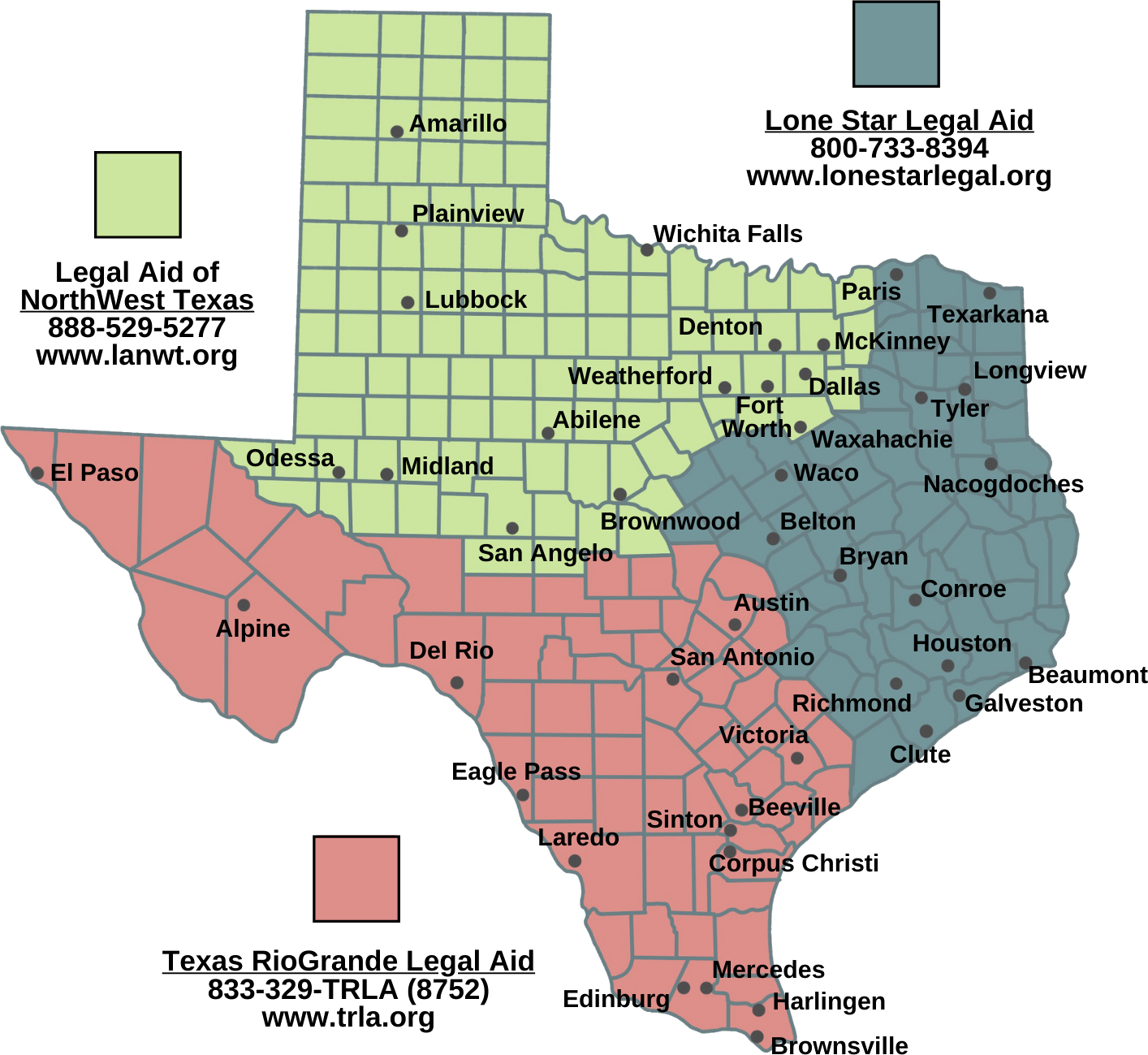 Recursos de asistencia legal
¿No tiene recursos para contratar a un abogado?
Los tribunales no ofrecen servicios legales directos al público, o representan a persona alguna en asuntos legales, ni mantienen un directorio de los abogados que ofrecen servicios legales gratuitos conocidos en inglés como pro bono y tampoco participan en la búsqueda de abogados que ofrecen servicios gratuitos. Tenga presente que los fondos para financiar servicios legales gratuitos o a bajo costo son extremadamente limitados y por ello, estos programas se ven obligados a rechazar casos de muchas personas con necesidades jurídicas importantes. Lo único que el Colegio de Abogados de Texas sí puede ofrecerle es información para comunicarse con las oficinas que ofrecen servicios legales civiles a bajo costo en su área. Para obtener una lista de los servicios legales que hay en cada condado, diríjase al Directorio de asistencia legal para texanos de bajos recursos (PDF en inglés).
Si usted no cubre los requisitos para recibir asistencia legal gratuita o a bajo costo, comuníquese al Servicio de referencia para asesoría legal al teléfono gratuito (800) 252-9690. A través del Servicio de referencia para asesoría legal, usted puede obtener una consulta de asesoramiento inicial de treinta minutos con un abogado, pagando $20 dólares. Al finalizar esta consulta, el abogado y usted podrán conversar sobre la posibilidad de contratarlo como su representante legal y podrán definir el costo de esta representación. Es importante que usted entienda que este Servicio de referencia para asesoría legal no es un servicio legal gratuito pro bono o un programa de honorarios reducidos.
Otros recursos de asistencia legal