Fourteenth Court of Appeals
Chief Justice Tracy Christopher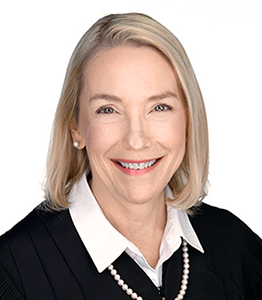 Tracy Christopher was elected Chief Justice of the 14th Court of Appeals in November 2020. She first joined the Court when she was appointed as a Justice in December 2009. Prior to her appointment, Chief Justice Christopher was the judge of the 295th District Court for 15 years,and was highly rated as a trial judge. She was honored as Appellate Judge of the Year by the Texas Association of Civil Trial and Appellate Specialists in 2013. She also received the 2013 Texas Bar Foundation Outstanding Jurist Award for her work as a trial and appellate judge. She had previously been named Trial Judge of the Year by the Texas Association of Civil Trial and Appellate Specialists.
Prior to becoming a judge, she practiced law for 13 years with the law firms of Susman Godfrey (1986-1994) and Vinson & Elkins (1981-1986). She is board certified by the Texas Board of Legal Specialization in Civil Trial Law and Personal Injury Trial Law. Justice Christopher attended the University of Texas School of Law, graduating with honors in 1981, and the University of Notre Dame, graduating with honors in 1978.
She is currently a member of the Supreme Court Advisory Committee. The members are appointed by the Texas Supreme Court and the committee studies the Rules of Civil Procedure, the Rules of Evidence and the Rules of Appellate Procedure and proposes changes to improve them. She is the past chair of the Pattern Jury Charge Oversight Committee and a current member. Members are appointed by the President of the State Bar of Texas and the committee studies the instructions given to a jury in trial.
Chief Justice Christopher has been married to Vance Christopher since 1981 and has three adult children. She was formerly an active volunteer with both Boy Scouts and Girl Scouts. Chief Justice Christopher is a member of St. Vincent de Paul Church. She currently volunteers through her church and with the Houston Bar Association's charitable programs.