Eleventh Court of Appeals
Justice Bruce Williams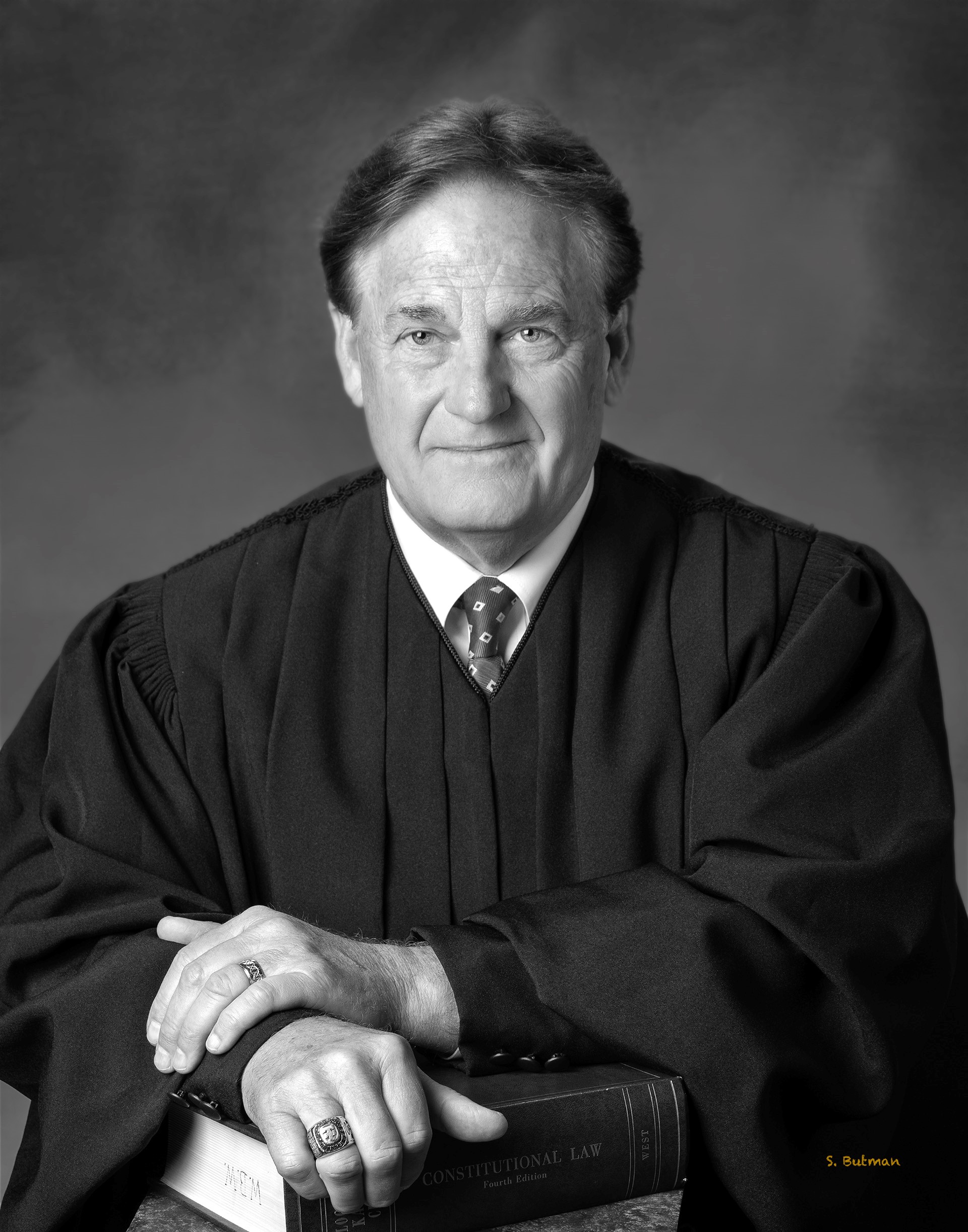 Place 2
Justice W. Bruce Williams was elected in November 2020 to the Texas Court of Appeals, 11th District for a 6 year term which began January 1, 2021.
Justice Williams was born in San Rafael, California (against his will!) and attended public school in Lubbock Texas, graduating from Monterey High School in "the incredible class of 1973."  That year he became the Texas State Pole Vaulting Champion in what was then Texas' largest school division- 4A.  He was named to the Texas Sportswriter's Association All-State Track Team 1982.  He attended Texas Tech University on a track scholarship but walked away from that opportunity after his freshman year to serve, at his own cost and without reimbursement, a two-year mission in Argentina.  He was present during the infamous military coup of the Isabel Peron presidency.  He returned in 1976, teaching Spanish for 2 years while attending BYU as a pole vaulter; graduating in 1979.
At the age of 12, Justice Williams knew that he wanted to be a trial attorney.  He fulfilled that dream by attending Texas Tech University Law School graduating in 1982.  He graduated in the top 20% of his class.  He served on the Law Review from 1980 – 82 and was selected as a Law Review Note Editor 1981 – 82.  He served on the Board of Barristers and was presented with the organization's Distinguished Service Award for 1982.  He and his trial partner won an interschool mock trial competition during which he was named "Best Oralist."  During his 3rd year in law school, he and 4 other students founded the law school's Legal Research Board, where he served as its administrative director 1981 – 82.  He was named as the Outstanding Graduate of 1982 by Phi Delta Phi, Warren Inn.  He was awarded the highest grade in Trial Advocacy for the 4 semester year of 1982.
After graduating from law school, Justice Williams began his legal career with the Cotton Bledsoe Tighe & Dawson, P.C.  law firm in Midland Texas in September 1982.  This was in the midst of the heyday of Texas worker's compensation litigation.  He tried his 1st jury trial to a verdict within the 1st year of his practice, and, at one point, tried 10 civil cases to a verdict within a 9 month period.  He feels lucky to have begun his trial practice in the wild and woolly days of civil litigation in West Texas among many colorful trial lawyers and imposing state and federal court judges.  Justice Williams became a shareholder at the Cotton Bledsoe firm in 1988 and practiced law there for 38 years.  During that time, he enjoyed a rich mix of civil litigation. 
He is certified by the Texas Board of Legal Specialization in Personal Injury Trial Law which practice focused on product liability defense.  He served 30 yrs as national counsel for a NYSE client handling over 17,000 toxic tort claims.  He successfully defended a national restaurant chain in a large number of food poisoning claims.  In the area of product liability he successfully defended one of the nation's top snack food producers as well as manufacturers of pharmaceuticals, medical devices, cranes, lift axles, electronic doors, oilfield fracking equipment, home gardening equipment, and a myriad of other products.  In the area of personal injury, Justice Williams defended oilfield accident suits, successfully handling wellhead fires, tank battery explosions, oil rig accidents and heavy equipment operation injuries as well as carrier transport trucking, railroad and auto accidents.
Justice Williams is also certified by the Texas Board of Legal Specialization in Civil Trial Law which practice focused on commercial business and oil and gas litigation.  He represented operators, drilling companies and oilfield service companies as well as royalty and working interest owners in complex litigation.  He has prosecuted and defended trespass to try title suits and disputes over mineral interests as well as continuous drilling, development and lease clauses.  He has reviewed, in litigation, hundreds of operating agreements, drilling and oilfield service contracts.  In defense of oil and gas clients, he estimates that he has personally been on over 100 oilfield accident sites including drilling rigs, work over rigs, refineries, tank batteries, pipelines and pump jacks.  His commercial contract litigation experience included cases centered on complicated conveyance contracts, as well as IADC drilling and other oilfield contracts with the duties between the operator, drilling contractor and service companies at issue including indemnity, allocation of risk, and waiver of responsibility provisions.
Early in his career, Justice Williams practiced employment law trying cases in both state and federal courts.  He has tried and resolved discrimination cases in the areas of age, sex, race and disability.  Justice Williams defended doctors, hospitals and their personnel in medical malpractice suits.  He has successfully defended healthcare providers sued in qui tam cases brought under the Federal False Claims Act.
In his law practice, he handled at least 35 civil appeals for cases in which he had been the lead trial attorney.
Justice Williams has been named as a Texas SuperLawyer and a Top Texas Attorney as published in Texas Monthly and/or Dallas Morning News 2015 – 2020.  Justice Williams was appointed by the Texas State Bar and served in Austin on the Administration of Rules of Evidence Committee for 9 years; 3 of those years as chair of the committee. The American Board of Trial Attorneys (ABOTA) awarded him the rank of "Advocate" in 2013.  He is a 2009 Life Fellow of the Texas Bar Foundation.  He is an A-V Preeminent peer review rated attorney in the nationally recognized Martindale-Hubble directory ranking system.