Supreme Court History 
Thank you for your interest in the history of the Supreme Court of Texas. The list below provides links to justices, clerks of court, and other historical information about the Court.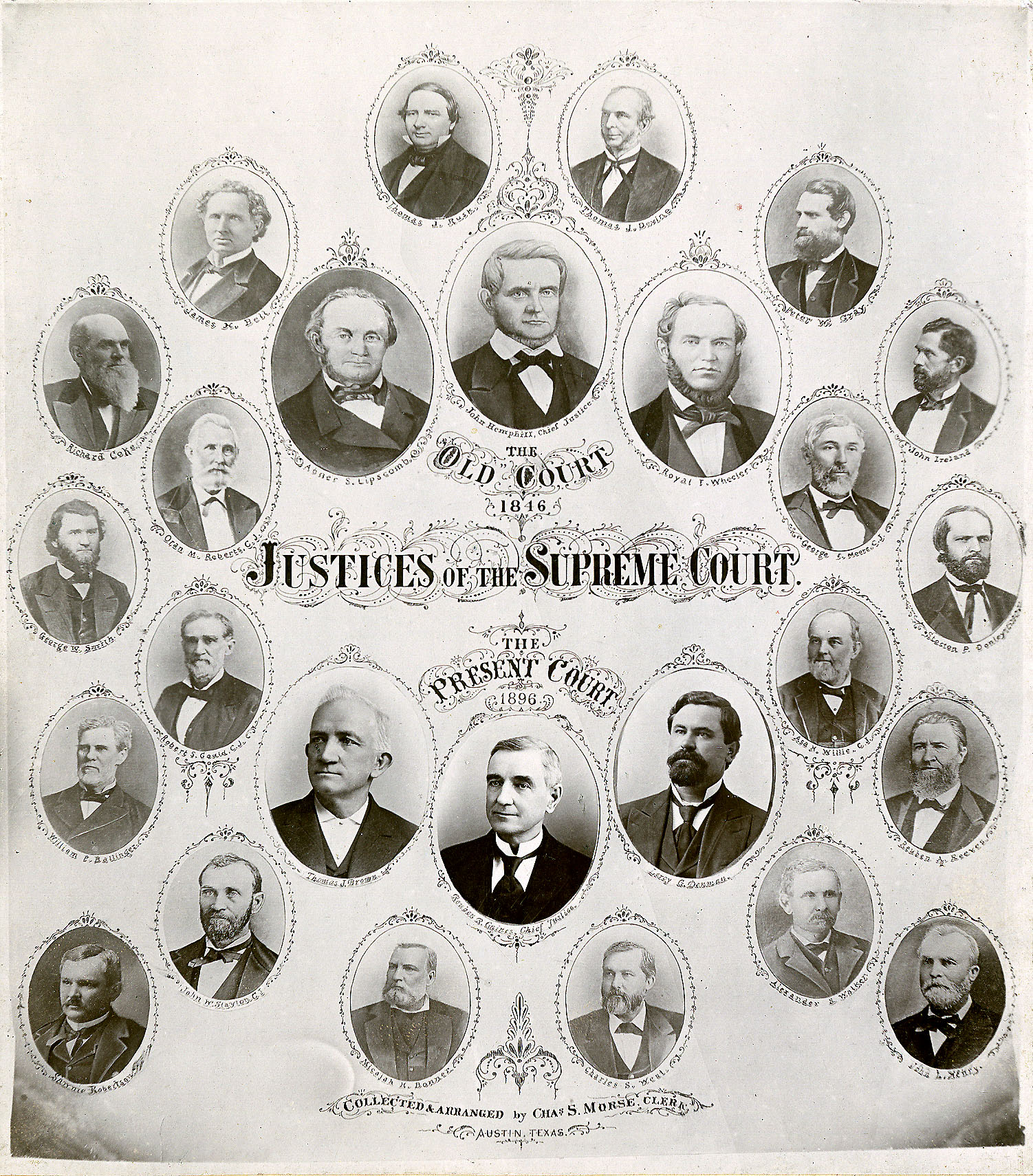 If you are interested in further researching the history of the Supreme Court of Texas, the information below can direct you to a variety of resources to aid you in your research.
Texas Supreme Court Archives (in house)
The Texas Supreme Court maintains some of its own inactive official records. Generally, the Court maintains the following public records:
Case files (1945-1999 in digital format; 2005-2013 in paper format)
Administrative Orders, Disciplinary Orders, and Resolutions [1990-present online here] 
Materials related to a variety of Court-appointed boards and committees
Rules history materials
Approved local rules for lower courts and administrative judicial regions
Supreme Court Advisory Committee (SCAC) materials [1982- present online here]
Rolls of Attorneys admitted to practice before the Court (1840-2002)
Minute Books (1943-present); Docket Books (beginning with C-cases)
Selected oral argument video recordings (1989-2003)
Vertical file of general Court-related news clippings and history articles
Justices' biographical files (news clippings, speech transcripts, authored articles, ceremony materials)
"Sam Houston" Bible c. 1816 (available to historians and researchers only by special permission of the Court) 
20th century photographs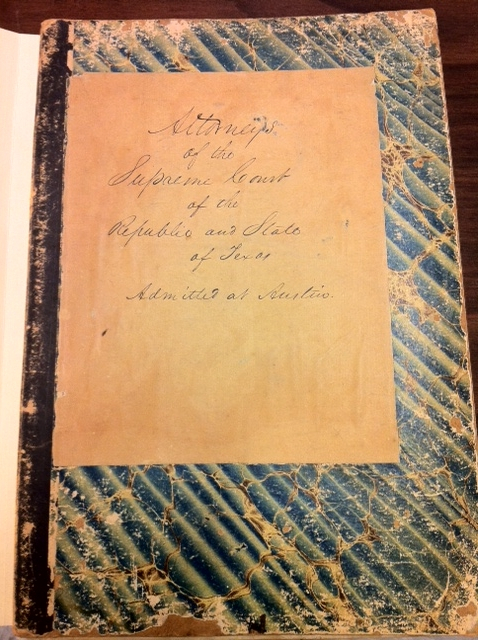 All records requests are subject to authorization by the Court, and all authorized viewings are by appointment only. Please contact the Supreme Court Archivist at 512-463-2665 for more information on these materials, to request copies, or to set up a research appointment.
Texas Supreme Court Archives (at the Texas State Library and Archives)
Most of the Court's 19th and early 20th century records are now housed at the Texas State Library and Archives (TSLAC). These include minute, opinion, and docket books for both the Court and Commission of Appeals. Case files from 1848 - 1998 are also in the custody of TSLAC.
A complete finding aid of TSLAC's Texas Supreme Court holdings can be found here: https://www.txarchives.org/tslac/finding_aids/20169.xml . Please contact the TSLAC archives staff for more information or research requests at archinfo@tsl.texas.gov or 512-463-5480.
Texas Supreme Court Historical Society
https://www.texascourthistory.org/
The Texas Supreme Court Historical Society (TSCHS) is a nonpartisan, nonprofit organization dedicated to the collection and preservation of privately owned papers, photographs, and significant artifacts relating to the Supreme Court and the appellate courts of Texas. The Society's collection contains justices' personal materials and campaign memorabilia, as well as the more recent justices' portraits which hang in the Supreme Court Building.
The Society has recently sponsored three books on the history of the Court: The Laws of Slavery in Texas edited by Randolph B. Campbell, The Texas Supreme Court: A Narrative History, 1836-1986, by James L. Haley, and Common Law Judge: Selected Writings of Chief Justice Jack Pope of Texas, edited by Marilyn P. Duncan. All are available for purchase through the Society's webpage.  For more information, please contact Mary Sue Miller at tschs@sbcglobal.net or 512-481-1840.
Biographies of Supreme Court Justices, 1836-1986 
The Tarlton Law Library at the University of Texas School of Law has created a webpage with the biographies of Supreme Court justices from 1836 to 1986, as well as other notable figures in Texas judicial history.
Texas Reports
The University of North Texas's Portal to Texas History has digitized a series of Texas Reports, which contain the published opinions of the Texas Supreme Court from 1846 to 1886. The full text documents are key word searchable.
Justice Ruby Kless Sondock Scrapbook and Photographs, 1930-1983 (at the University of Houston Libraries) 
Ruby Kless Sondock was appointed to the Texas Supreme Court in 1982 by Gov. William P. Clements following the death of Justice James G. Denton. When the fifty-six-year-old Sondock was sworn in on June 25, she became the first woman justice on the court since 1925, when a special all-woman court served briefly to hear a single case involving the Woodmen of the World. Sondock completed Denton's term, which ended December 31, 1982, and did not seek election. Instead, she returned to the 234th District Court, to which she won reelection without opposition the following November.
This two-series collection primarily documents the year of Judge Sondock's appointment to the Texas Supreme Court as an Associate Justice in 1982. Most notably, this collection includes a 25 in by 17 in, 96-page scrapbook consisting of clippings, photographs, invitations, programs, correspondence, and congratulatory notes regarding her 1982 appointment. Additionally, this collection contains childhood photographs of Judge Sondock from the 1930's.