Justice Don Willett Nominated to Fifth Circuit U.S. Court of Appeals 
TEXAS SUPREME COURT advisory
Contact: Osler McCarthy
512.463.1441 or email
Twitter: @OslerSCTX

Texas Supreme Court Justice Don Willett has been nominated to the Fifth Circuit U.S. Court of Appeals by President Donald Trump.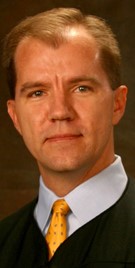 Justice Willett, who has served on the Court since August 2005, earned his undergraduate degree from Baylor University and two law degrees – a doctor of jurisprudence and masters of law in judicial studies – from Duke University. He also holds a master of arts in political science from Duke.
Dallas attorney James C. Ho also was nominated to the Fifth Circuit, according to the White House.
"Justice Willett has a sterling record of 12 years' service on the Texas Supreme Court as a fair, independent, and extraordinary jurist," Chief Justice Nathan L. Hecht said. "He will be a great addition to the federal Fifth Circuit."
Before joining the Court, Willett was a deputy Texas attorney general, serving as chief legal adviser to then-Attorney General Greg Abbott, and was deputy assistant attorney general for legal policy at the U.S. Justice Department under President George W. Bush. At the Justice Department, he advised the president on judicial nominations and supervised civil- and criminal-justice initiatives, such as expediting citizenship for immigrants serving in the U.S. military, and the landmark PROTECT Act of 2003 to combat violent crimes against children. He also was special assistant to the president in the White House, advising on religious liberty and other domestic-policy issues.
From 1996 through 2000, he was worked for then-Gov. Bush as director of research and special projects and was an adviser to the 2000 Bush-Cheney Presidential Campaign transition team.
After law school, he clerked for Judge Jerre S. Williams on the Fifth Circuit.