Justice Lori I. Valenzuela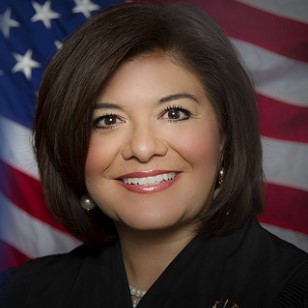 Place 7
Justice Lori I. Valenzuela was the former judge of the 437th Criminal District Court where she presided from 2009 until she was appointed to the 4th Court of Appeals in January 2021. Raised in a military family, she takes great pride in co-founding and presiding over a Felony Veteran's Treatment Court while serving as a trial judge. Prior to her tenure on the bench, Justice Valenzuela served as a Bexar County Assistant District Attorney, established a law practice concentrating in criminal defense, and worked as a county magistrate.
Justice Valenzuela is an adjunct professor at the University of Texas at San Antonio. She is a past chair of the Texas Center for the Judiciary Board of Directors and was previously appointed by the Supreme Court of Texas as chair of the Court Reporter Advisory Committee. Her prior board experience includes the Federal Judicial Evaluation Committee, Bexar County Juvenile Board, St. Peter-St. Joseph Children's Home, Family Service Association, Boy Scouts of America Executive Board, and the Child Fatality Review Board. Additionally, she is a Life Fellow of both the San Antonio Bar Foundation and the Texas Bar Foundation.
Justice Valenzuela received her Bachelor of Arts in Government from the University of Texas at Austin and her Juris Doctor degree from St. Mary's University School of Law. She is married to R. Sean McCleskey and they are the proud parents of three children.
Staff
Staff Attorneys
Benjamin Robertson
Austin Reyna