Chief Justice Hecht, Florida Chief Justice to Grapple with Hurricane Effects on Legal Aid 
TEXAS SUPREME COURT advisory

Contact: Osler McCarthy
512.463.1441 or email
Twitter: @OslerSCTX

October 16, 2017
TEXAS, FLORIDA CHIEF JUSTICES TO RECOUNT
STRESS ON ACCESS TO JUSTICE AFTER HURRICANES
Chief Justice Nathan L. Hecht, together with Florida Chief Justice Jorge Labarga, will explore the hurricane-force strains on legal-aid assistance brought with destruction and flooding by Hurricanes Harvey and Irma this summer. Both chief justices will be featured in a panel discussion Monday on low-incomes legal assistance at Harvard Law School.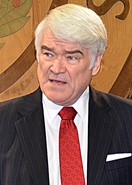 The afternoon presentation will be streamed live here, beginning at 1 p.m. Central Daylight Time.
Flooding and destruction in the greater Houston area and along the Texas Coastal Bend where Hurricane Harvey initially came ashore disabled courthouses as legal problems mounted for storm victims.
"This forum will show how access to justice, always a struggle to assure for clients, lawyers, and courts, had to be rebuilt in days following a natural disaster," Chief Justice Hecht said. "We continue to learn how to provide justice against great odds and against the worst that nature threw at Texas. The heroes are unsung, but they are many, and the greatest survivor was the rule of law."
Hecht and Labarga will discuss the challenges of Harvey and Irma in the first of four sessions in a Forum on Access to Justice at Harvard sponsored by the Legal Services Corp., the umbrella organization for low-income legal-aid programs in the United States.
Hecht and Labarga will address Natural Disasters, Legal Aid, and the Justice System.
In Houston alone the criminal courts building was knocked out as well as the underground jury-assembly structure for the downtown Harris County courts. Lone Star Legal Aid's Houston office was flooded, then burned, scattering legal-aid lawyers to five makeshift offices as thousands of clients sought help with emergency help and housing assistance.