Clerk of Court Blake A. Hawthorne honored with national award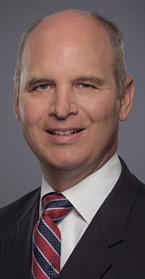 August 5, 2022
Contact: Amy Starnes
Director of Public Affairs
512.463.1441 or email
The National Conference of Appellate Court Clerks has awarded Blake A. Hawthorne, Clerk of the Supreme Court of Texas, with the 2022 J.O. Sentell Award, which recognizes distinguished service to the NCACC and the profession overall.
The award is named after the conference's first president and was first presented in 1979. Hawthorne joins 43 distinguished recipients from state and federal appellate courts across the nation.
The award thanks Hawthorne for his loyal service, honoring him as an "inspirational leader who freely shares his wisdom and experience."
Hawthorne served the NCACC as its Past President (2016-2017), President (2015-2016), President-Elect (2014-2015), Vice President (2013-2015), Executive Committee member, Program Committee Chair, and Vendor Chair as well as other appointments.
Hawthorne has served the Supreme Court of Texas since his initial appointment as Clerk of the Court in August 2006. Prior to his appointment, Hawthorne served the Court as the Staff Attorney for Original Proceedings. Before joining the Court, he was an Assistant Attorney General for the State of Texas and an associate in the law firms of Wiley, Rein & Fielding in Washington, D.C. and Jackson Walker in Fort Worth.
Hawthorne graduated magna cum laude from Tulane University with a degree in anthropology and Spanish in 1992. He graduated with honors from the University of Texas School of Law in 1996 and is board certified in civil appellate law by the Texas Board of Legal Specialization.
He is a member of the state Judicial Committee on Information Technology (JCIT) and serves as the chair of its Electronic Filing Subcommittee.
Hawthorne is a native Texan, born in Austin. He is married to Wendy Harvel, an attorney at Coffin Renner LLP. They have two daughters, Sophie and Eva.