Justice C.L. Ray Jr., 1931-2018 
TEXAS SUPREME COURT advisory
Contact: Osler McCarthy
512.463.1441 or email
Twitter: @OslerSCTX

December 10, 2018
JUSTICE C.L. RAY JR., 1931-2018
Retired Justice C.L. Ray Jr., a progressive who served on the Texas Supreme Court for 10 years through the 1980s when it was pitched for change, died Sunday in Lansing, Mich. He was 87.

"C.L. Ray served the Court with distinction," Chief Justice Nathan L. Hecht said. "He was a country lawyer who supported simplified procedure that overcame 'gotcha' traps to be fair and to resolve legal disputes on their merits. His memory and contributions to Texas jurisprudence will endure."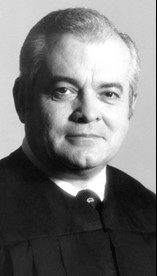 Born Cread L. Ray Jr. in 1931 in Waskom, near Marshall, he graduated from Waskom High School in 1948, from Texas A&M University with a bachelor's degree in business in 1952, and from the University of Texas School of Law in 1957 after serving in the U.S. Air Force in Korea. At A&M he was named Outstanding Cadet in the legendary Corps of Cadets.

"He … had a pragmatic sense of what was right, which by itself is no substitute for learned explanations of the common law, but is always a jumping-off point for refining the issues and researching the law for opinions that explain the policy behind the common law," said Charles Spain, one of Ray's former Supreme Court briefing attorneys and newly elected justice on Houston's 14th Court of Appeals. "For Judge Ray it was never enough to find cases that stated a proposition; the cases had to explain why. They also had to make sense."

Ray died under hospice care in the late stages of prostate cancer he battled for years. He moved recently with his wife, Janet, to Michigan to be close to family. Burial will be in the Texas State Cemetery at a date that has not been determined.

Judge Ray is survived by his wife, the former Janet Watson; four children, Robert (and his wife, Martha), Glenn; Marcie (Ben); and Anne (George); and five grandchildren. He was predeceased by his daughter, Sue Ann Culver, and stepson David Keller.
Memorials in his honor may be made to Hospice of Lansing (http://www.hospiceoflansing.org); Boy Scouts of America – Michigan Crossroads Council, 137 S. Marketplace Blvd., Lansing, Michigan 48917-7756 (www.michiganscouting.org); or Boy Scouts of America – Cascade Pacific Council (www.cpcbsa.org).

[Judge Charles Spain remembers C.L. Ray Jr.]

Admitted to the Texas bar in 1957, he returned to practice law in Marshall and, two years later, entered politics with his election as Harrison County judge. After serving as county judge for two years, he returned to private practice

In 1966 voters in Harrison and Panola counties elected Ray to the first of two terms he would serve in the Texas House of Representatives. But instead of seeking re-election to the House, in 1970 he won a seat on the Texarkana Court of Appeals and served until his election to the Supreme Court in 1980.

On the Court Ray was among a philosophical-reform vanguard, especially in tort disputes. That produced controversy, but he also faced accusations that he improperly sided with a campaign contributor in voting to rehear a case decided against the contributor. He called that a partisan attack as the Court's supporters became more divided, Republican versus Democrat, and the Court itself became majority Republican through the 1990s.

He retired when his term ended in 1990 and returned to law practice, this time in Austin, concentrating on appeals, oil-and-gas and personal-injury law.

After his return from Korea he left active service for the Air Force Reserve. He retired as a lieutenant colonel in 1987.
An Eagle Scout as teenager, Ray was honored in 1981 by the Boy Scouts of America organization as a Distinguished Eagle Scout. He remained actively involved in Scouting, serving as a scoutmaster and as a member of his local council executive board, including service as vice president for legal affairs.

"Perhaps there never was an age of 'great judges,' merely judges who appeared that way to us when we were young and just starting out," Spain said Sunday in a tribute. "But Judge Ray did appear that way to me – and with good cause. He served his country in the Air Force in Korea, honed his skills for years as a country lawyer, and served two terms in the Texas House of Representatives and eventually 20 years on the bench – a decade on the Texarkana Court of Civil Appeals and a decade on the Supreme Court of Texas."

"For those of us who had the privilege to know him, Judge Ray cared deeply about the law, about justice, and about people," Spain said. "And he always had great stories. You were lucky to be his friend."