Justice Brian Walker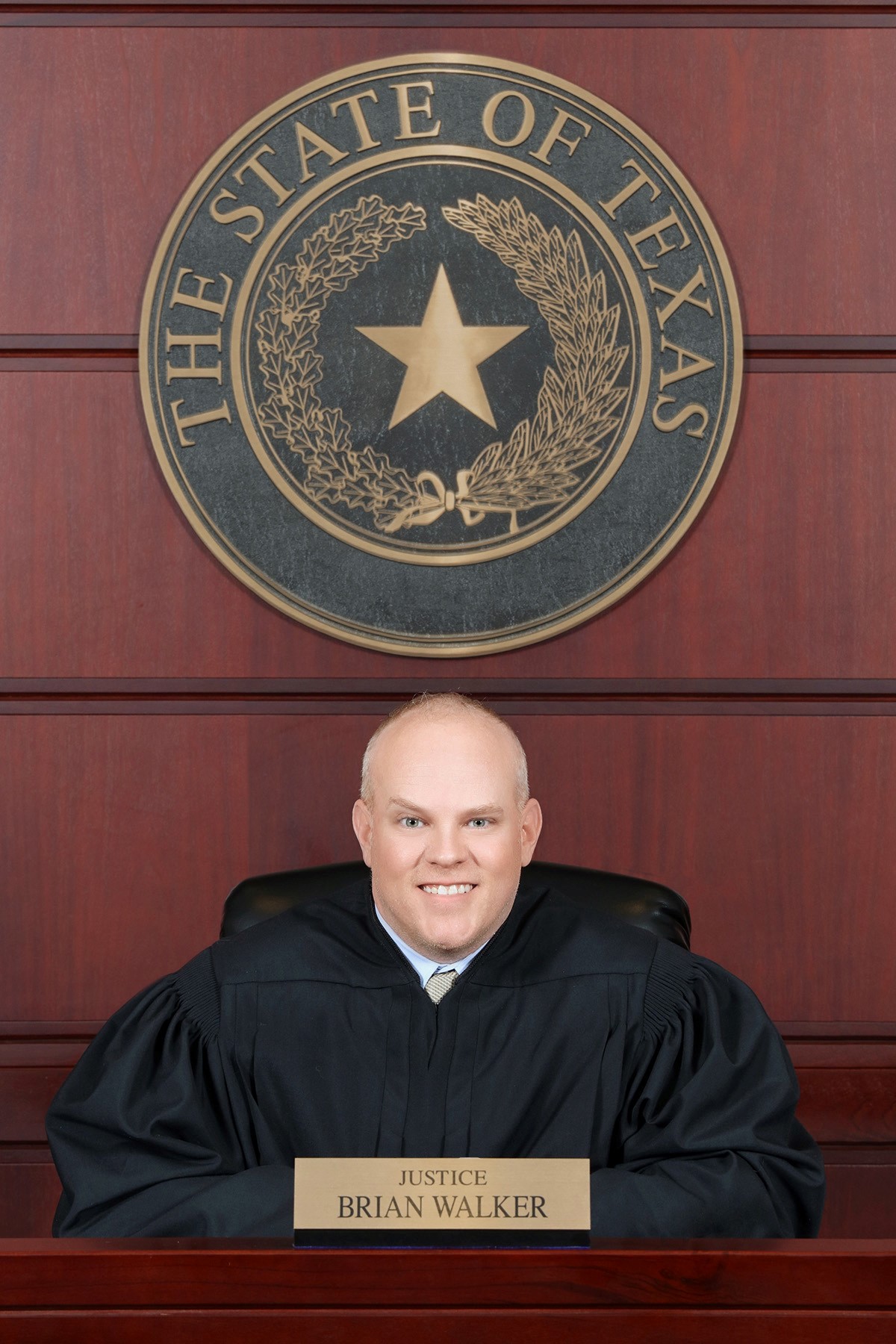 Place 7
Justice Brian Walker received his Bachelor of Science from Texas State University, a Master of Arts in International Relations from the University of Oklahoma, a Master of Biblical and Theological Studies from Dallas Theological Seminary, and his Doctor of Jurisprudence from the University of Houston.  Prior to law school, Justice Walker served as an intern on a presidential political campaign, as a Messenger for the Texas Legislature, and as an Assistant Sergeant-at-Arms for the Texas Senate.  During law school in Houston, Justice Walker clerked for the late famed criminal defense attorney Richard "Racehorse" Haynes.  After passing the bar exam in 2004, Justice Walker went to work as a prosecutor at the Harrison County District Attorney's office in East Texas, where he served just under two years.  After working as an Assistant District Attorney, Justice Walker went into private law practice.  Justice Walker worked in private practice for almost fifteen years, handling matters in Military and Veteran's Law, Civil Litigation, and Criminal Defense.  During that time, Justice Walker authored approximately 100 civil and criminal appellate briefs and served as first-chair attorney in over 75 civil and criminal jury trials.
While in private practice, Justice Walker received several awards and accolades.  In 2012, the Tarrant County Chapter of Texas Lawyers for Texas Veterans (TLTV) presented him with the Committee Leadership Award for his work in helping co-found and lead the TLTV program that provides pro bono legal services to indigent military veterans.  In 2013, Justice Walker was selected by the Fort Worth Business Journal to their annual "40 Under 40" list of persons in the community under the age of forty who are the most successful in their respective professions and who are making a significant impact in the city through community service. In early 2014, Justice Walker was named a "Fellow" with the Next Generation Project of the Robert Strauss Institute for International Security and Law at the University of Texas at Austin.  Justice Walker was selected as "The 2014/2015 Distinguished Alumnus" by his high school alma mater in 2014— the youngest recipient of that award in the several decades that it has been given.  In that same year, Justice Walker was named to the "Top 100 Trial Lawyers" list by the National Trial Lawyers Association.
Justice Walker was named as a "Lawyer on the Rise" by Texas Lawyer magazine in 2016, an honor given to only twenty attorneys in Texas under the age of forty.  Justice Walker was one of only two attorneys in private practice to receive the award. In 2016 and 2017, Justice Walker was selected as a "Rising Star" by "Super Lawyers," the highly selective organization that chooses and ranks the top 2.5 percent of lawyers in the country based on peer review and successful performance in the legal industry.  Justice Walker was named as a "Super Lawyer" (top lawyers over forty in the nation) in 2020 and 2021 by that same organization.  Justice Walker was also named as a "Top Attorney" by Fort Worth Magazine for the last nine years that he was in private practice. 
Justice Walker is a former Judge Advocate (JAG) in the United States Air Force Reserves (USAFR).  Justice Walker served nine years in the USAFR and, during that time, was assigned as a JAG to Barksdale Air Force Base (Louisiana), Aviano Air Base (Northern Italy), and Tinker AFB (Oklahoma).  In addition to serving as a JAG, Justice Walker was the first JAG in Air Force history to serve as a Flight Commander/Instructor (officer equivalent of a Drill Instructor) at the U.S. Air Force Officer Training School at Maxwell Air Force Base (Alabama).  While serving in that capacity for almost half of 2014, Justice Walker trained officer cadets in leadership, Air Force history and principles, drill and ceremonies, esprit de corps, and other aspects of being a United States Air Force Officer.  In addition to Justice Walker's military service and private law practice, he has taught state and federal government as an adjunct professor at the collegiate level.