Justice Blacklock 's Formal Investiture Set Monday 
JUSTICE BLACKLOCK'S FORMAL INVESTITURE
SET MONDAY IN THE TEXAS HOUSE CHAMBER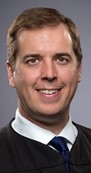 Justice Jimmy Blacklock's formal oath ceremony will be at 2 p.m. Monday in the Texas House of Representatives Chamber. Gov. Greg Abbott will administer the oath, as he did when Justice Blacklock was officially sworn in Jan. 2 to begin work with the Court.

The ceremony includes a tribute to former Justice Don R. Willett, whom Blacklock succeeded when Willett joined the New Orleans-based Fifth Circuit U.S. Court of Appeals. Chief Justice Nathan L. Hecht will deliver the tribute.

Abbott and Fifth Circuit Judge Jerry E. Smith also will be featured speakers. Blacklock served Abbott as the governor's general counsel before Abbott appointed him to the Court. Blacklock served Judge Smith as a law clerk after Blacklock's graduation from Yale Law School.