Justice Lehrmann, UT Law Commencement Speaker... and a Proud Mom 
TEXAS SUPREME COURT advisory
Contact: Osler McCarthy
512.463.1441 or email
Twitter: @OslerSCTX

JUSTICE LEHRMANN, UT LAW COMMENCEMENT SPEAKER ... AND A PROUD MOM

Texas Supreme Court Justice Debra H. Lehrmann urged University of Texas law graduates to denounce injustice, to listen and engage and to learn from the other side.
"Don't be stubborn," Justice Lehrmann told graduates Saturday at the School of Law's Sunflower Ceremony, the law school's commencement.
Sound like a mother admonishing her children? She was.
Among the 351 graduates Lehrmann addressed as commencement speaker in Gregory Gymnasium was her son, Jonathan Lehrmann.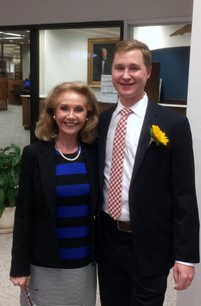 In the audience: her other son, Gregory, a Pepperdine University law student.
"The degree to which I am honored to be here is truly enormous," Lehrmann said, who earned her law degree from UT in 1982. "Not only because my husband and I are graduates of this esteemed law school, and because of the high regard we have for the legal profession – but also because our son, Jonathan, is as many of you know a member of this graduating class."
Greg Lehrmann, her husband, also graduated from UT Law in 1982.
"And so, as I speak to you today," she said, "I speak not only as a hopeful member of the legal profession, but also as a mother speaking to her sons.
"Like all of you, I am humbled beyond words … with pride, gratitude and sincere joy."
Then Justice Lehrmann got an opportunity other parents at the ceremony had to wait for: She threw her arms around Jonathan on stage after she pinned the traditional sunflower to his lapel.
"The role the legal profession plays in this grand experiment called democracy can never be overstated," she told the School of Law graduates. "It is our profession that ensures that the will of the people is enforced, but never at the expense of any individual's fundamental rights. Indeed, we are the gatekeepers.
"If we don't fight to ensure the rule of law is applied equally and fairly, who will?
"If we don't stand up for the 'poor' and 'huddled masses,' to ensure that justice is available for everyone, not just the economically privileged, who will?"
"If we don't protect the disenfranchised and scorned, who will?
"If we don't work to ensure that both our criminal justice system and our civil justice system is applied fairly and equally, without regard to race, religion, national origin or minority status, who will?
"If we don't ensure that the rights of individuals enshrined in our Bill of Rights are strictly enforced across the board, who will?'
She continued: "No matter where you are in your class, after today and once you get that law license, you will have a power and capacity that very few people have. You will have the power to help those in need, to improve lives, to foster stability, to counsel on the law. Indeed, you will be listened to, sought after, respected and depended upon."