Justice Luz Elena Chapa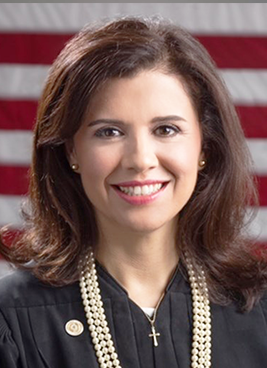 Place 4
Justice Luz Elena D. Chapa was elected to serve on the Fourth Court of Appeals effective January 1, 2013, and upon her election, she was the youngest serving Hispanic justice in the State of Texas. Prior to her election, Justice Chapa practiced on both sides of the civil docket in counties across Texas, with a concentration in products liability litigation.
Justice Chapa was raised in El Paso, Texas and pursued her secondary education in San Antonio at St. Mary's University, where she received both her Bachelor of Arts in English and her Juris Doctor. Between college and law school, she headed to Capitol Hill, where she interned for US Congressman Lloyd Doggett and worked for the late US Congressman Frank Tejeda. During law school, Justice Chapa interned for Chief Justice (Ret.) Alma L. López, and upon graduating, Justice Chapa began her legal career in El Paso, working with the law firm Oaxaca, Bernal & Associates. She later moved to Corpus Christi in 2001, where she joined the law firm Hartline, Dacus, Barger & Dreyer, LLP before returning to San Antonio in 2005, where she joined forces with her husband and fellow lawyer, Miguel Chapa. Justice Chapa has been married to Miguel for eighteen years, and they have three children.
Justice Chapa is a Texas Bar Foundation Life Fellow, a San Antonio Bar Foundation Fellow, a 2014 Inductee to the San Antonio Women's Hall of Fame and is a member of numerous organizations. In addition to her personal and professional responsibilities to her family and the Fourth Court, Justice Chapa devotes her time to mentoring students at Healy Murphy Center, where she served as Vice President of the board 2012-2018, currently serving on the boards of the American Bar Association, Judicial Division, Appellate Judges Education Institute (AJEI), and Clarity Child Guidance Center. She previously served on the boards of the St. Mary's Law Alumni Association, St. Mary's Hispanic Law Alumni Association, and The Children's Ballet of San Antonio. She is a proud member of National Charity League-Alamo Chapter, IMPACT San Antonio and is an official advocate for 1in5Minds – a campaign launched by Clarity to bring more awareness to the community about children's mental health needs and to lessen the stigma associated with mental illness.
Justice Chapa currently serves on the Diversity, Equity and Inclusion Task Force for Saint Mary's Hall in San Antonio.