Justice Dennise Garcia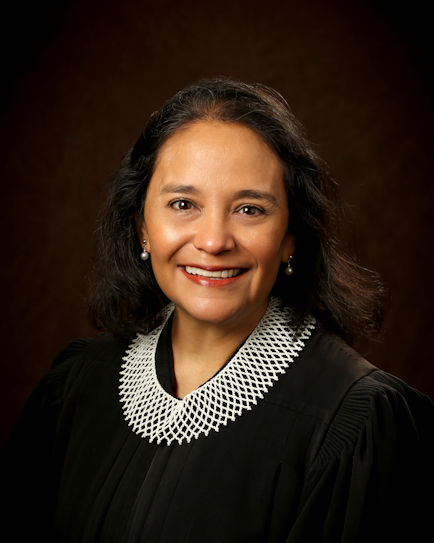 Place 8
Justice Dennise Garcia has been a Texas judge for over 16 years. She was elected to the 5th District Court of Appeals on November 3, 2020. At the time of her election to the Court, Justice Garcia had presided over thousands of trials as Judge of the 303rd District Court. Over her judicial career, she was selected by her colleagues to be Presiding Judge of all Dallas County Family District Courts for two terms. She is double board certified in Family law and Child Welfare law.
Justice Garcia is active in the legal community. She currently serves on the Texas Supreme Court Family Law Advisory group for pandemic issues, the State Bar Committee on Disciplinary Rules and Referenda, and the State Bar Pattern Jury Charge Family/Probate committee. She participates as member in several legal organizations such as the Annette Stewart Inn of Court, the Texas Bar College, and the Dallas Bar Association.
She has a long history contributing to legal education. She previously served on the Bench Book Committee for the Texas Center for the Judiciary, and the Texas Advanced Family Law Course planning committee for the State Bar. Justice Garcia has also taught Family Law and Texas Matrimonial Property at SMU's Dedman School of Law as visiting faculty. She is active on the Texas legal speaking circuit for organizations such as the State Bar, the Texas Center for the Judiciary, and the Texas Bar College. Over the years she has written and taught on topics such as family law, child welfare, legal ethics, litigation strategy, discovery, evidence, judgments, mental health in the legal profession, and docket management.
Justice Garcia is respected by her peers and colleagues. During her time on the bench, she was recognized as an Outstanding Jurist by the Texas Chapter of the American Academy of Matrimonial Lawyers, and was previously named Best Judge by Dallas Observer. She has twice been awarded the Merrill Hartman Judicial Pro Bono Service Award.
Prior to taking the bench, Justice Garcia worked in private practice for 10 years and during that time was recognized as a Texas Super Lawyer, was selected for inclusion in the Best Lawyers in America by Woodward/White Inc., and held an AV rating from Martindale-Hubbell. In 2003 and 2004, she co- authored and updated an article that received the Best CLE article award from the College of the State Bar of Texas.
A Dallas native, Justice Garcia graduated from Irving's Nimitz High School, SMU, and SMU Dedman School of Law.